BARNSLEY HOUSE WEDDING FLOWERS
We just love Barnsley House wedding flowers and we delighted to be asked to be the wedding florist for a gorgeous wedding on 1 May. I had the good fortune of meeting Annalise and Pez earlier this spring to finalise arrangements for their intimate wedding celebrations at Barnsley House.
BARNSLEY HOUSE WEDDING FLOWERS ~ BUTTON HOLES
For the day Annalise chose creamy whites and soft blush tones for her wedding flowers. Pez's button hole had a touch of spray rose and eucalyptus to tie in with the bridal bouquet.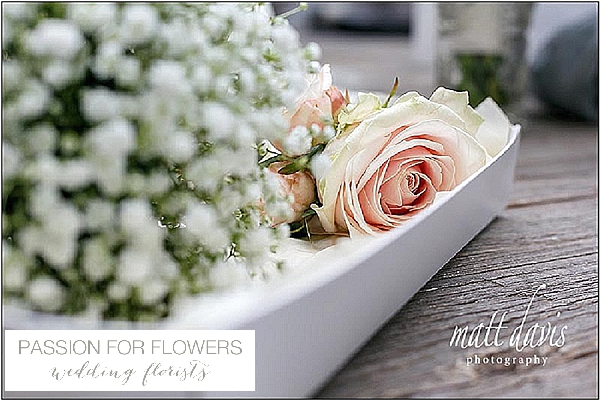 BARNSLEY HOUSE WEDDING FLOWERS ~ FLOWER GIRLS POMANDERS
When I first saw photos of the gorgeous dresses the young girls would be wearing I just knew that the dreamy flower girl pomanders would look stunning. Their soft blush pink dresses had a blousy rose and they all enjoyed their day so much. I'll let you into a little secret here, when collecting the urns the next day the girls had chosen to wear their dresses for their breakfast and still looked just as cute!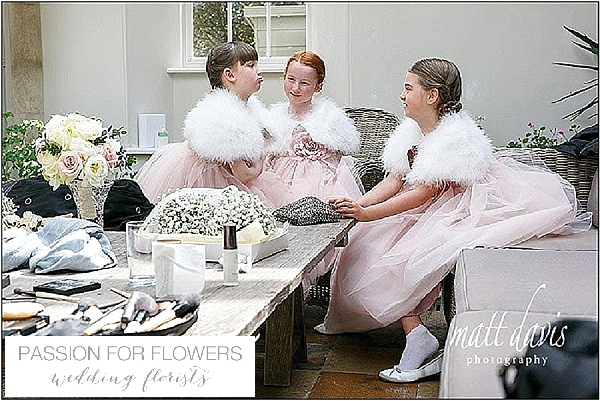 BARNSLEY HOUSE WEDDING FLOWERS ~ BRIDAL BOUQUET
Annalise had discussed her stunning dress with me and chose a blousy rose and scented peony bouquet with touches of eucalyptus. The look was timeless and so so elegant.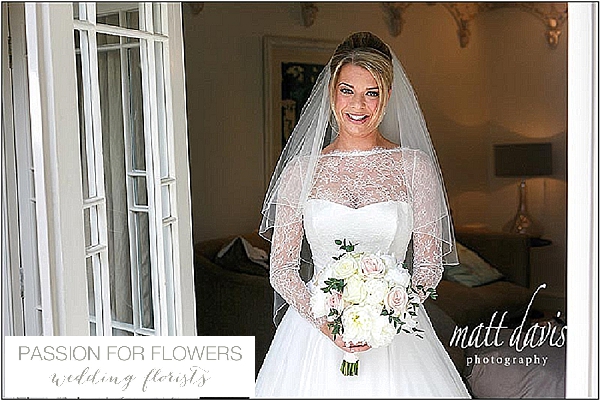 BARNSLEY HOUSE WEDDING FLOWERS ~ INDOOR CEREMONY
At Barnsley House we created an elegant timeless setting for the indoor ceremony, the large urns brought the feeling of a garden setting filled with hydrangea, peonies and roses. The aisle was lined with elegant silver lanterns filled with fresh rose petals.The gardens beckoned for a few photos after the ceremony just before the heavens opened again but nothing could dampen the spirits of this happy couple.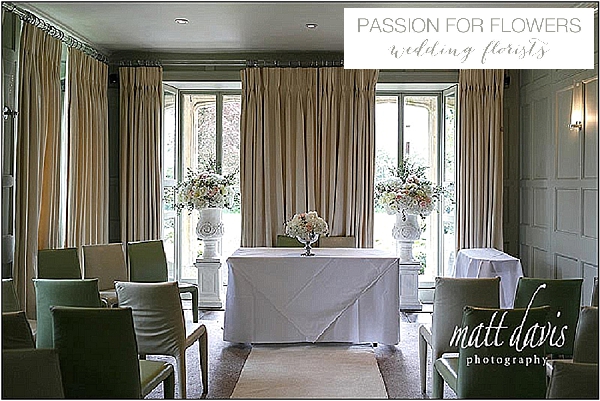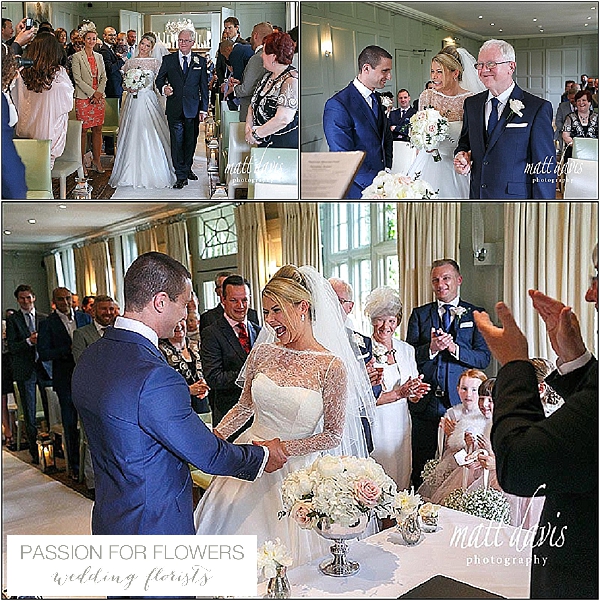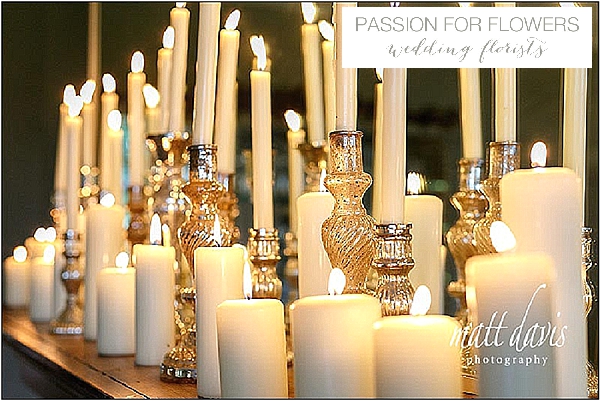 BARNSLEY HOUSE WEDDING FLOWERS ~ CENTREPIECES
Candles and mercury silver created the elegant centrepieces for this Barnsley House wedding. The huge mirror and fireplace overflowing with candles and candlesticks set a romantic look and feel to the room. The centrepieces continued this elegant look with a mix of candlesticks, silver footed bowls and mercury silver vases and vessels filled with scented roses and peonies. I love the freshness of the rosemary tucked into each place setting.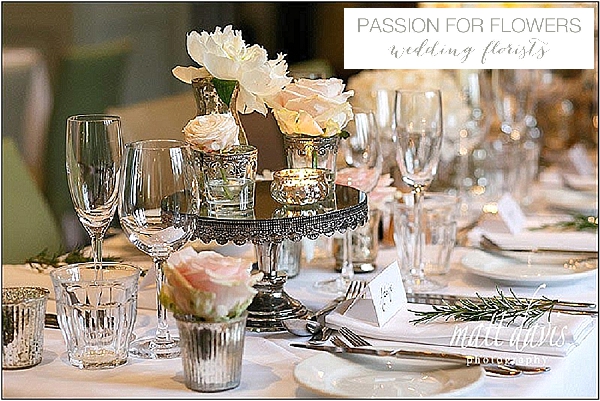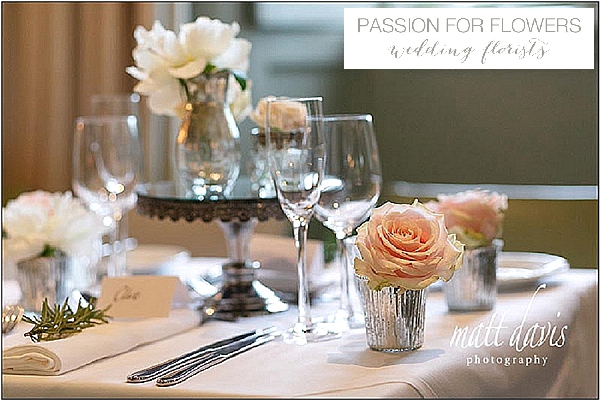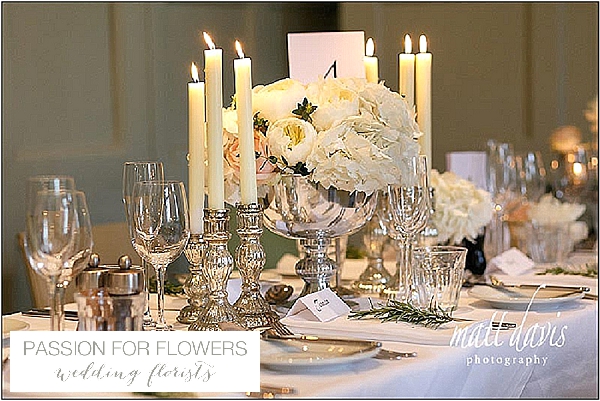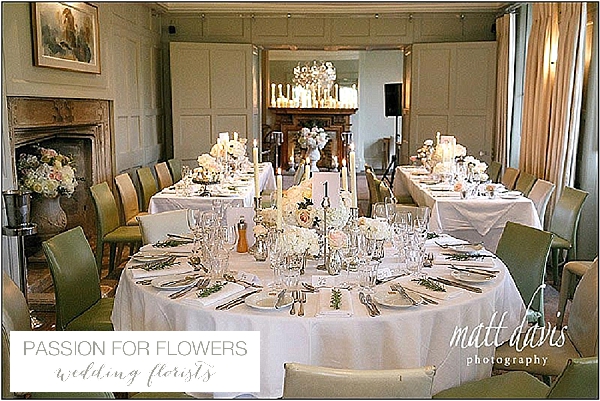 Florist: Passion for Flowers // Venue: Barnsley House, Cotswolds // Photographer: Matt Davis