We have recently written an article for Wedding Flowers & Accessories Magazine about wedding flower budgets. Worth a read if you are wondering how much you should budget for your flowers.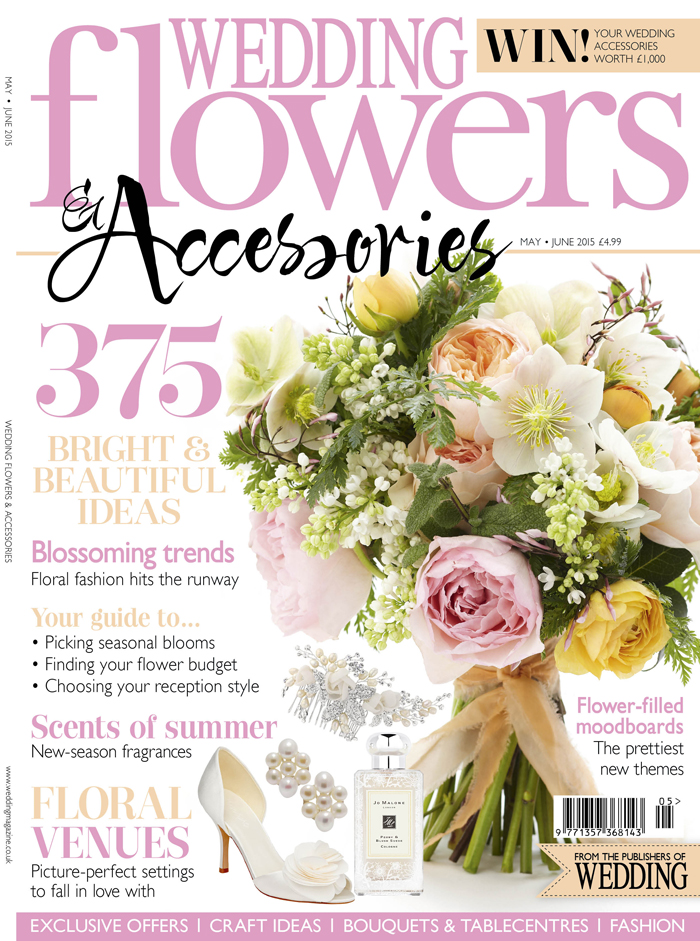 BLOOMING BUDGETS – HOW MUCH SHOULD I BUDGET FOR WEDDING FLOWERS?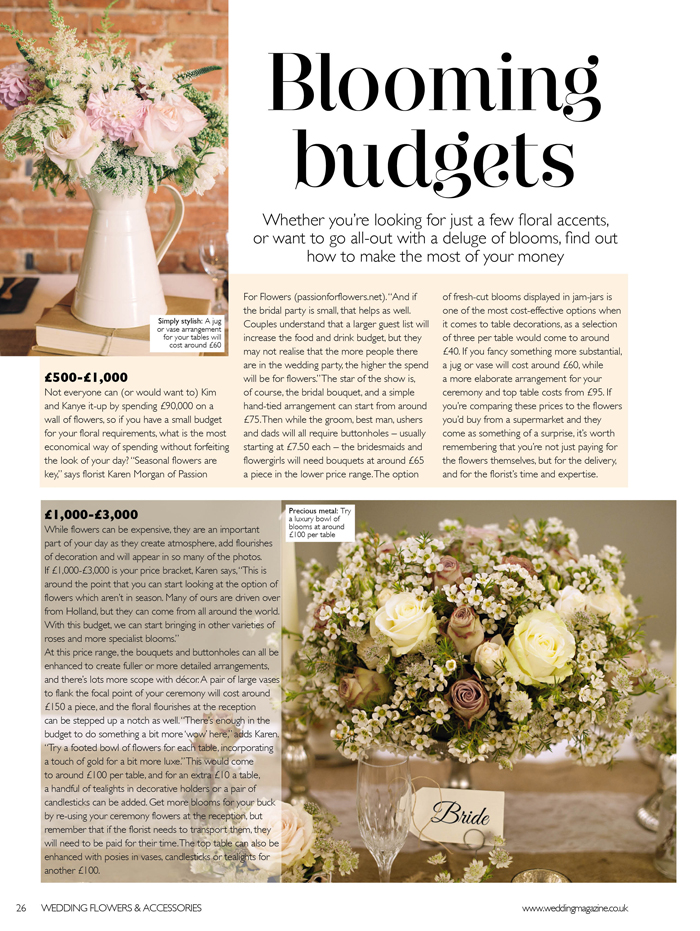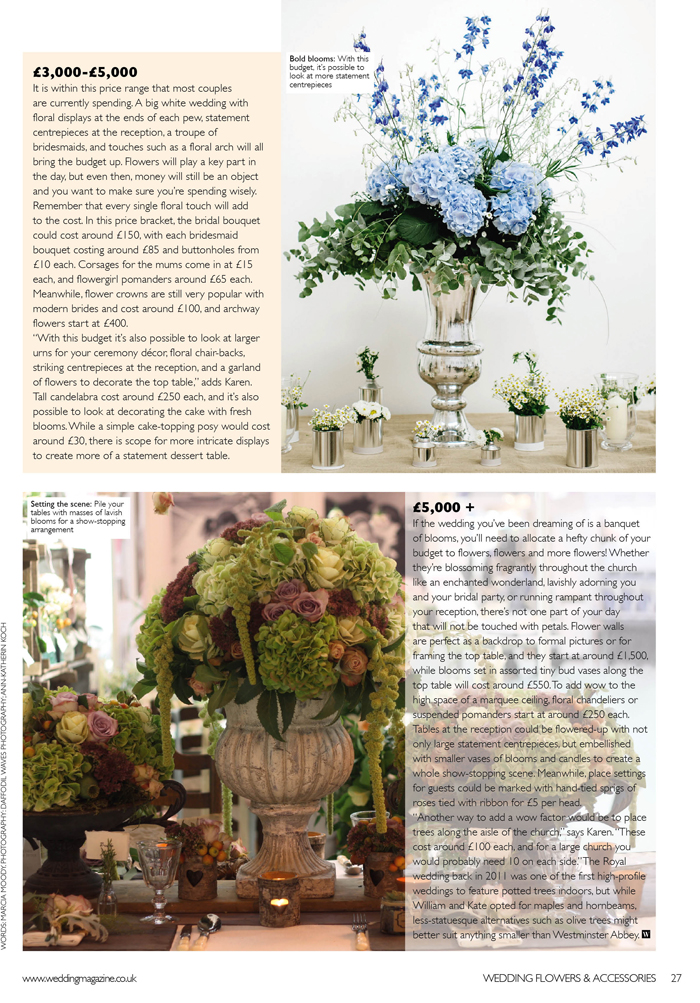 £500-£1,000
Not everyone can (or would want to) Kim-and-Kanye it up by spending £90,000 alone on a wall of flowers, so if you have a small budget for your floral requirements, which is the most economical way of spending – without forfeiting the look of your day? 'Seasonal flowers are key' says florist Karen Morgan of Passion For Flowers (passionforflowers.net). 'And if the bridal party is small that helps as well. Couples understand that a larger guest-list will increase the food and drink budget, but they may not realise straight away that the more people there are in the wedding party, the the higher the spend will be for flowers.' The star of the show is of course the bridal bouquet, and a simple hand-tied arrangement can start at around £75. Then while the groom, best man, ushers and dads of the couple will all require button holes – starting at £7.50 – the bridesmaids and flower girls will need bouquets at around £65 a piece in the lower price-range. The popular shabby-chic option of fresh cut blooms in jam jars is one of the most cost-effective options when it comes to table decorations, as a selection of three per table would come to around £40. If you fancy something more substantial for your tables then a simple jug or vase of flowers will cost around £60 each, with a slightly larger more elaborate arrangement for your ceremony/top table costing from £95. If you're comparing prices to the flowers you'd buy from a supermarket and they come as something of a surprise, it's worth remembering that you're not just paying for the flowers themselves, but for the delivery, and for the florist's time and expertise.
£1,000-£3,000
While flowers can be expensive, they are also an important part of your day as they create atmosphere, add flourishes of decoration, and will appear in so many of the photos – whether they are featured inside the ceremony, carried by the bridal party or decorating the reception. If £1,000-£3,000 is your price bracket, Karen says, 'This is around the point that you can start looking at the non-seasonal flowers. We fly ours in from Holland, but they can come from all around the world. With this budget, we can start bringing in roses and more specialist flowers.' Here the bouquets and buttonholes can all be enhanced to create fuller or more detailed arrangements, and there's lots more scope with the decor. A pair of large vases to flank the focal point of your ceremony will cost around £150 a piece, and the floral flourishes of the reception can be stepped up a notch as well. 'There's enough in the budget to do something a bit more wow here' says Karen. 'We could look at a nice footed bowl of flowers for each table and a touch of gold for a bit more luxe.' This would come to around £100 per table, and for an extra £10 a table, a handful of tea-lights in decorative holders or a pair of candle-sticks can be added. Get more blooms for your buck by re-using ceremony flowers at the reception, but remember that if the florist needs to transport them, they will need to be paid for their time. The top table can also be enhanced with posy vases, candle-sticks or tea lights for another £100.
£3,000-£5,000
It is within this price range that most couples are currently spending. A big white wedding with floral displays at the ends of the pews, statement centre-pieces at the reception, a troupe of bridesmaids, and touches such as a floral arch will all help to bring the budget up. Flowers are obviously going to play a key part in the day, but even then, money will still be an object and you want to make sure you're spending wisely. Remember that every single floral touch will add to the cost – it's not just a case of there being an couple of extra stems hanging around in the florist's workshop, so they could be 'thrown in'. In this price bracket, the bridal bouquet could cost around £150 – with each bridesmaid bouquet costing £85 and button holes starting at £10 each. Corsages for the mums come in £15 each, and flower girl pomanders around £65 each. Meanwhile flower crowns are still very popular and cost around £100, and archway flowers starts at £400. 'With this budget it's possible to look at larger urns for your ceremony, floral pew-ends or chair-backs, tall centre-pieces at the reception, and a garland of flowers decorating the top table' says Karen. Five foot high candelabra cost around £250 each, and it's also possible to look at decorating the cake with fresh blooms as well. As more couples are moving away from the traditional heavily-iced cakes with intricate sugar flowers and there's more demand for naked sponges and less formal sweet treats, more are looking for fresh flowers to decorate their cake, and while a simple posy would cost around £30, there is scope for fuller, more intricate displays to create more of a statement table.
£5,000 +
If the wedding you've been dreaming of is a banquet of blooms, you'll need to allocate a hefty chunk of your budget to flowers, flowers and more flowers! Whether they're blossoming fragrantly throughout the church like an enchanted wonderland, lavishly adorning you and your bridal party, or running rampant throughout your reception, there's not one part of your day that will not be touched with petals. Flower walls are perfect as a backdrop to formal pictures or for framing the top table, and they start at around £1,500, while a carpet of flowers set in assorted tiny bud vases along the top table will cost around £750, and to add wow to the simple high space of a marquee ceiling, floral chandeliers or suspended balls of flowers start at around £200 each. Tables at the reception could be flowered-up with not only large statement centre-pieces, but embellished with smaller vases of blooms, and candles to create a whole show-stopping scene. Meanwhile place-settings for guests could be marked with hand-tied sprigs of roses tied with ribbon for £5 per head. 'Another way to add a wow factor would be to place trees along the aisle of the church' says Karen. 'They would cost around £100 each, and for a large church you would probably need ten on each side.' The royal wedding back in 2011 was one of the first high-profile weddings to feature potted trees indoors, but while William and Kate opted for maples and hornbeams, less-statuesque alternatives such as olive trees might suit anything smaller than Westminster Abbey.