CRIPPS BARN WEDDING FLOWERS
We love creating Cripps Barn wedding flowers especially hanging globes. It is always a pleasure to travel down to the Cotswolds and create wedding flowers for our couples tying the knot at Cripps Barn. Claire and Ben booked us more than a year before their wedding after they had seen us setting up at Cripps Barn. They were looking for a relaxed rustic wedding celebration with family and friends. Ben is a true romantic and I loved the pearls he had chosen for Claire. The boys were at Cripps the morning of the wedding adding some hand made touches while the girls finished getting ready. Don't you just love the directional signs lovingly made by Claire's Dad. All photography by Jen Marino Photography.
CRIPPS BARN WEDDING FLOWERS ~ BOUQUETS
Claire and her bridesmaids had wonderful dresses and needed simple just picked flowers to complete their look. We worked with a white and green palette with highlights of purple and blue adding touches of lavender and veronica in the bridal just picked bouquet. To keep the bouquets rustic in style they were finished with hessian.
CRIPPS BARN WEDDING FLOWERS ~ RUSTIC BUTTON HOLES WITH TWINE
Rustic button holes with twine suited this rustic style wedding and its setting at Cripps Barn. The button holes were all a little different and finished with twine. Name tags are great to help with handing out the button holes on the wedding day.
CRIPPS BARN WEDDING FLOWERS ~ CEREMONY BARN FLOWERS
At Cripps Barn you can choose to have your ceremony in the wonderful ceremony barn which is a simply stunning way to tie the knot. Jars of just picked flowers on the ceremony table and huge just picked hanging globes are all that is needed to complete the look. The beauty of the hanging globes can be enjoyed later in the day for the evening celebrations. The young flower girls pomanders also looked perfect hanging as pew ends from their chairs.
CRIPPS BARN WEDDING FLOWERS ~ TOP TABLE FLOWERS
The long top table at Cripps Barn looks warm and inviting with an assortment of jars and vases with just picked flowers from the day. Just Married hessian bunting was added to the front of the top table as well as a hessian runner for another rustic touch.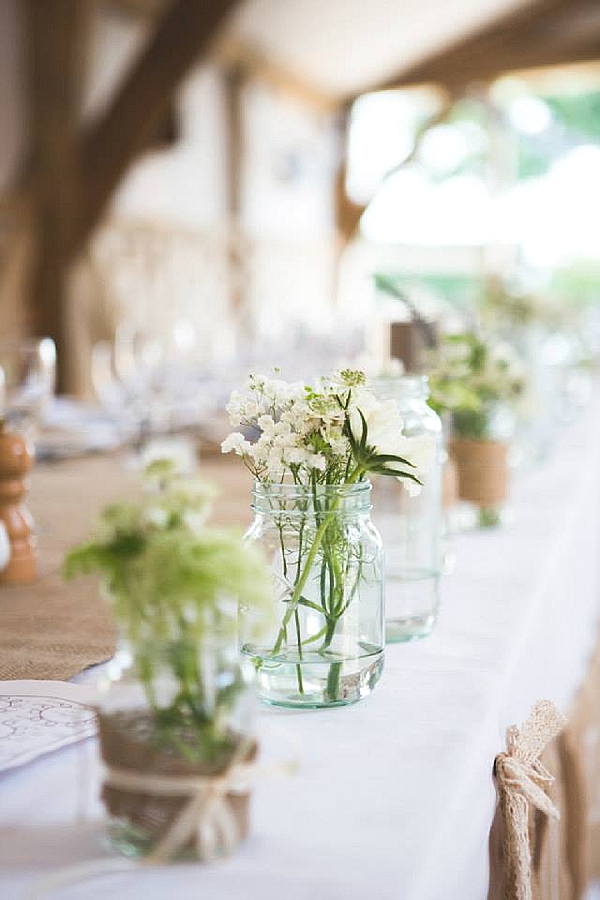 CRIPPS BARN WEDDING FLOWERS ~ PLACE SETTINGS
The guests place settings were finished with lavender for the girls and rosemary for the boys. It is always welcoming to add a floral place setting for your guests.
CRIPPS BARN WEDDING FLOWERS ~ WEDDING CAKE DECORATION
The lovely cake was finished with a mini Mr and Mrs bunting and we added rustic flowers hand tied with twine to finish the look. Wedding cake decoration should always tie through into your day so this was just perfect for a rustic wedding at Cripps Barn.
CRIPPS BARN WEDDING FLOWERS ~ HANGING FLOWER GLOBES
The hanging flower globes are a 'must have' at Cripps Barn as they are enjoyed by guests throughout the day and are the last thing seen at the end of the evening. Claire and Ben had the hanging flower globes high up on their list of priorities as they had seen ones we had created for previous weddings. For a rustic wedding we combined lots of fresh scented eucalyptus and dill, dreamy gypsophila and blousy hydrangeas.
One of the lovely comments from our happy couple after the wedding was that the globes smelled really amazing.
If you are looking for a wedding florist for your Cripps Barn or Shustoke Barn wedding we would love to hear from you.
Karen x
Credits – Florists: Passion for Flowers // Photographer: Jen Marino Photography // Venue: Cripps Barn // Extra Decor, Cake Topper, Hessian: The Wedding of my Dreams