Every mother dreams of her daughter's wedding and so when Gemma and Richard announced their engagement and plans for a dreamy destination wedding in Tuscany I was beyond excited. Being a mother and daughter florist team we live and breathe weddings and Gemma's was no exception.
From the start we wanted Gemma's wedding to be a relaxed day with family and friends and we are so thankful to everyone that played a part in her wedding. Planning a wedding even we you are in the wedding industry is no easy task but there is nothing we would change, all the effort was worth it.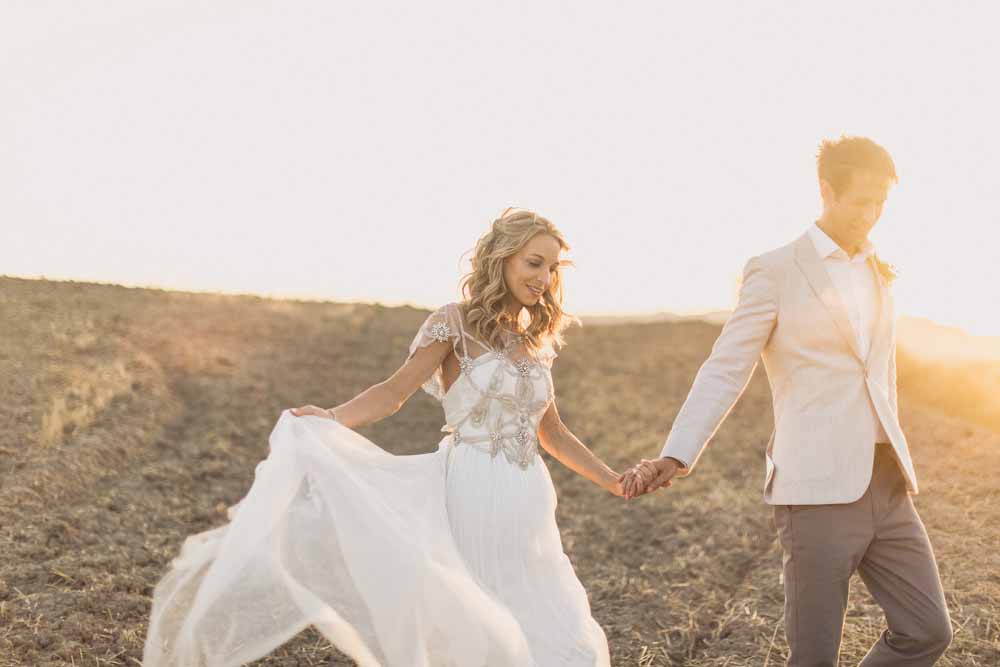 As you can imagine there were lots of photos and we wanted to share them all with you. We have split the wedding up into sections, scroll down to see everything. The smaller images can be clicked on if you want to pin them or make them full size.
WEDDING PREPARATIONS – LOCANDA IN TUSCANY
Months of planning gave way to the excitement of arriving at our beautiful location in Tuscany to start creating the wedding we had all been dreaming of. All of our vases, signage, dressing, runners and details were sent out from our company The Wedding of My Dreams by van to arrive at our venue to await us.
Wedding preparations continued with the arrival of the flowers and foliage from our friends at Florismart as well as a few local grown specials from Puscina Flowers.  We had invited Lois one of our florists to travel out to Tuscany and work with us to create all this beauty. We have a large family and many able helpers so we enlisted their help in dressing the venue. No task went unchecked as Gemma had planned all the details so brilliantly that we had an amazing work schedule to keep us on track. Whilst Gemma, Lois and I concentrated on the larger arrangements we knew the dressing of the gazebo, foliage hoops, hanging of lanterns, setting out of signs and filling of vases for the centrepieces was happening all around us.
Click on the thumbnail images below to see them full screen size.
BRIDAL PARTY GETTING READY, LOCANDA IN TUSCANY
The venue had plenty of space for Richard and the boys to get ready in the rooms surrounding the pool whilst Gemma and the girls enjoyed the coolness of the main house for their preparations.
We chose to take out our wedding industry friends with us including Make up by Jodie who did an amazing job keeping us relaxed whilst ensuring we were ready in good time.
Gemma's dress and her bridesmaids gowns were chosen from Coco and Kate and she just loved the Anna Campbell, Adelaide dress she wore. I managed to find a beautiful Gina Baconi outfit to complement her look. The boys looked relaxed in their white shirts and chinos with Richard wearing a well cut grey jacket. Of course Olivia was the main star of the day with her white and silver dress and good nature.
Click on the thumbnail images below to see them full screen size.
OUTDOOR WEDDING CEREMONY, BAGNO VIGNONI, TUSCANY
Gemma and Richard chose the romantic setting of the Loggiato in Bagno Vignoni for their outdoor wedding ceremony. The backdrop was so beautiful with the old buildings and thermal pool. We dressed the wooden chairs with flowing runners which blew in the breeze and added large urns with natural organic designed florals and foliage. We even found an antique wooden crib for Olivia and added a flower garland to entice her in. Foliage hoops set the scene and were continued at Locanda as a way of linking our venues.
The garland for the car was a joy to create and I was so thrilled to see Gemma be driven to the ceremony by her father Richard and return after the ceremony with her husband Richard to be welcomed by family and friends.
Click on the thumbnail images below to see them full screen size.
BRIDE AND GROOM PORTRAIT PHOTOS TUSCANY
Anna and Simon Clarke were unrelenting on the day capturing every important moment and lots of beautiful shots of the Tuscan backdrop chosen for Gemma and Richard's dream wedding. We are eternally grateful for the beauty they created and the amazing film Simon has put together. We had a family viewing of this on Christmas Day and it was such a joy to see.
Click on the thumbnail images below to see them full screen size.
WEDDING DRINKS RECEPTION, LOCANDA IN TUSCANY
After transporting our guests to our hillside location, a relaxed atmosphere was the order of the day. Food stations were set out offering the very best in Tuscan fare whilst everyone enjoyed cocktails and welcome drinks.
Shade was important for some of the guests and so gazebos and decorated pergolas provided plenty of spaces to chat and relax. Garden games were set out for those who wanted and we loved creating our family tree.
Click on the thumbnail images below to see them full screen size.
WEDDING GUEST TABLES, ALFRESCO WEDDING LONG WOODEN TABLES
Gemma and Richard knew they wanted the evening meal to be on long tables, under lights surrounded by family and friends. We chose our caterers with the help of our planner Francesca and agreed on the rustic style tables and chairs with long runners. The flowers in a mix of antique gold bottles vases, glass bottles with gold rims with hundreds of bronze tea lights and lanterns created a magical look. As the light faded the candles were lit and the table lanterns enhanced the setting.
Click on the thumbnail images below to see them full screen size.
EXTRA DETAILS, WEDDING CAKE, BAR, POOL DECORATIONS & DANCE FLOOR
Gemma and Richard decorated their own cake under the direction of the chefs. The loggia backdrop with its fireplace and informal seating was a wonderful place to decorate and relax in late in the evening. Lanterns laid out around the pool added to the magic and romance of the evening, organic arrangements in small urns were placed on the American bar, lanterns and fairy lights lit the dance floor under the pergola so the party could continue well into the early hours.
Click on the thumbnail images below to see them full screen size.
I can truly say this was the happiest day of our lives and when we had our last glass or two of wine when all the guests had left we all agreed we would not have done it any other way. I am so happy for Gemma Richard and Olivia as they enjoy their married life as the 3 Kings.
With love Karen x
GEMMA + RICHARD // WEDDING PREVIEW // BAGNO VIGNONI – TUSCANY from WE ARE // THE CLARKES on Vimeo.
THANKS TO ALL THESE SUPPLIERS WE COULD NOT HAVE DONE IT WITHOUT