Flower friends are great and as florists we enjoy working and learning together. Earlier in the year I was delighted to spend time  with Alison from Mad Lilies and Janet from the Flower Room Belfast. Alison had kindly invited Sabine Darrall to join us for the day and work with us all to create bountiful and beautiful flowers in the stunning English countryside. I had long admired Sabine's work but had never had the opportunity to spend time with her and learn from her.  We started off with a relaxed evening together talking all things flowery and more besides!
All the flowers and foliage were beautifully conditioned ready for our flowery adventure.
TOP TABLE STYLING WITH HANGING FLOWERS ABOVE
Hanging flowers always hit the spot and a chandelier over a top table is just so lush with a mix of spring blooms. The table below was styled with runners, candlesticks, bottles  and tea lights from our sister company theweddingofmydreams. Dreamy floral place settings lovingly tied with ribbon completed this romantic,spring look.
HANGING FLOWER INSTALLATION OVER TOP TABLE
We kept the look on the table light and airy so as not to distract from the star attraction the hanging flower installation. For a top table it is always lovely to have a great feature iin place for added impact when it comes to the speeches.
CEREMONY TABLE WITH FLOWER CANOPY OVER HEAD
For a ceremony table with a soft, romantic feel we worked together to create a flower canopy. This lush design was oozing with scented roses, tulips, ranunculi and masses of different foliages for texture.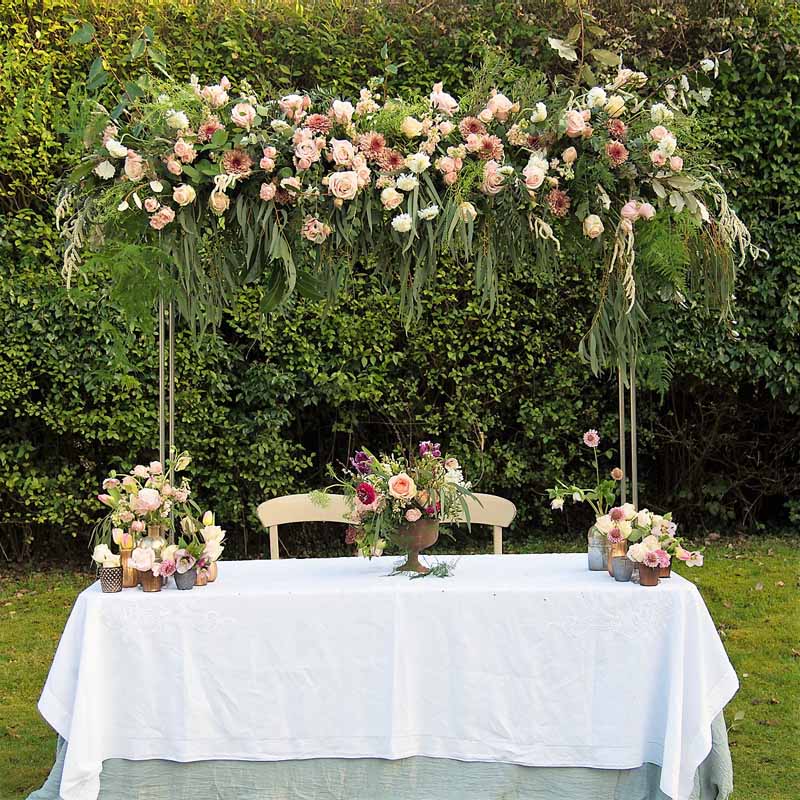 An asymetric grouping of bottles, vases and votives is perfect for the table with a lush footed urn as the centrepiece. This look really allows your guests to see the individual blooms and appreciate the true beauty of the flowers.
CEREMONY ARCHES – PURPLE, LILAC AND RED
We love creating wild, relaxed florals and worked together to create this beautiful ceremony arch perfect for a country garden or rustic inspired wedding. The rich mix of purple, lilac and red were jewel tones and really made our hearts sing. The finishing touches of logs, lanterns and potting shed finds were just perfect to complete the look. Working together was a fun and heartwarming experience.
CEREMONY ARCHES –  LILAC, PINK AND PEACH
For a more subdued look then lilac, pink an peach fit the bill, an abundance of scented lilac, soft and delicate helebroes, snapdragon, wax flower, viburnum berries, delicate scabious and the softest blush and peach roses made a great choice.
I certainly enjoyed our day and look forward to us flowering and inspiring each other in the coming months and years. Thank you Sabine for your warmth and openess,  and to Alison for organising the day.
Photography Beth Lavin and Sabine Darrall