Laura and Ed were married in the amazing Abbey at Stanbrook Abbey surrounded by family and friends. Laura and her Mum Debbie had spent many months planning this beautiful wedding and had handpicked the best suppliers they could for this epic wedding. We loved being such a big part of their wedding and helping bring their ideas to life.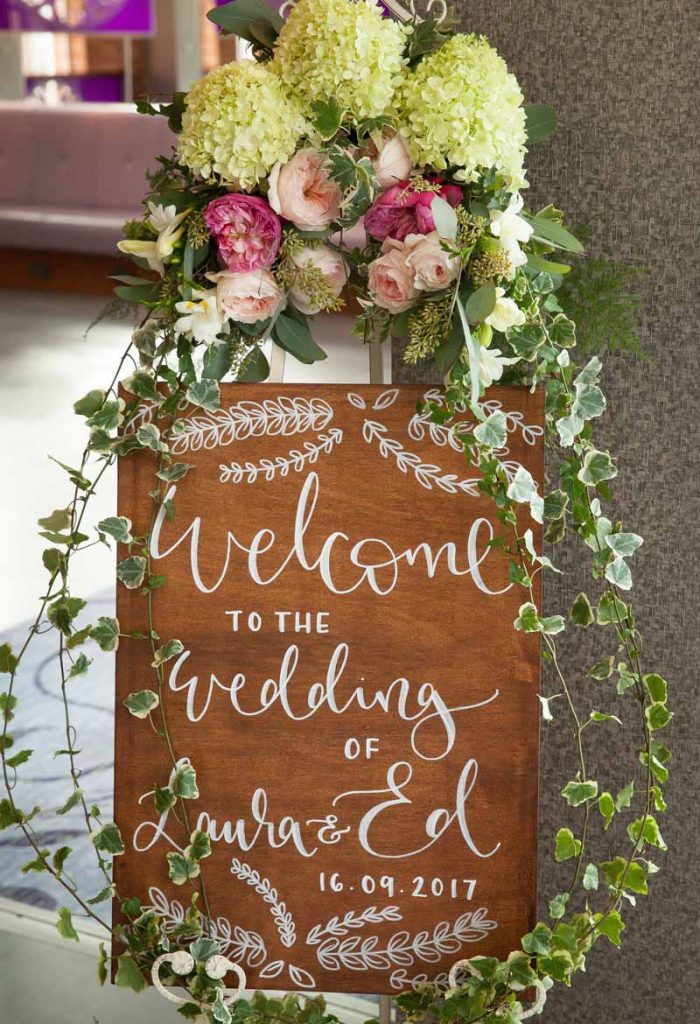 LARGE TRAILING WILD BOUQUET
Flowers and scent were key to this wedding and the pure joy and delight as we brought the bouquets in to Brides Manor on the wedding day was for all to see, an emotional day but one we will remember for many years to come. Laura gave us a free rein on the final design of her bouquet, but we were thrilled to have been given photos of her grandma's bouquet as a great starting point and took inspiration from that with the trailing asparagus fern and roses. The bouquet contained the most scented of David Austin roses and was a joy to create.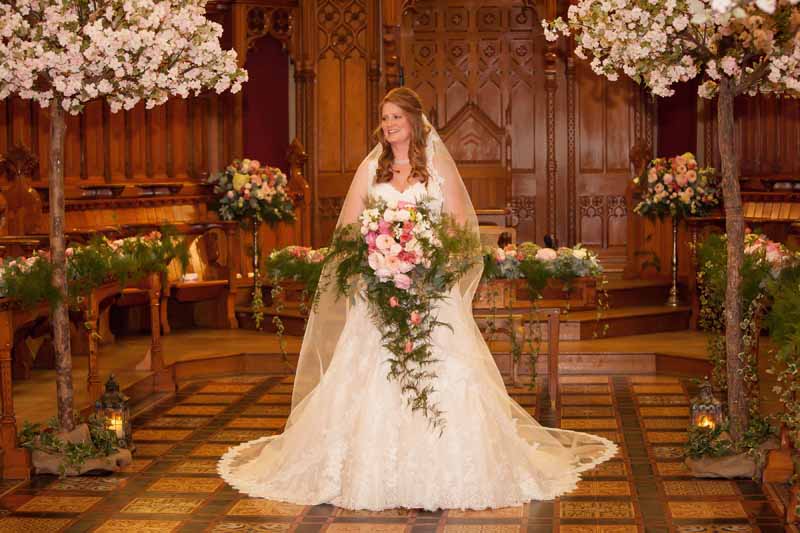 EPIC CEREMONY FLOWERS AT STANBROOK ABBEY – METRES AND METRES OF FLORAL GARLANDS, LANTERNS & TREES
During the planning stages we visited Stanbrook Abbey, sat in the pews and created our plan. Bountiful blossom trees lined the aisle and every surface was covered with metres and metres of floral garlands. The scent was so evocative and emotional as the guests awaited the arrival of the bride and the ceremony began whilst being entertained by the gospel choir.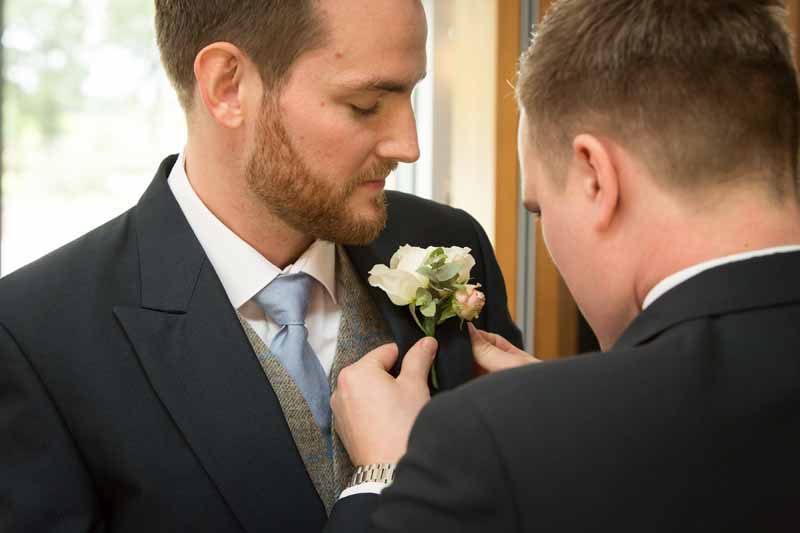 PINK, PEACH & GREEN CENTREPIECES WITH FULL LENGTH TOP TABLE GARLAND IN MARQUEE
Whilst the bride and groom were having photos with their guests we added the final touches to the marquee.  The top table had a full length floral garland with the lovely mix of pink, peach and green foliage with masses of summer roses and lisianthus. With the blossom trees and foliage it looked as if the gardens had come inside.
EXTRA DETAILS
Laura and Ed had thought of all the extra details and used our US mail box for and gifts. Flowers continued to adhorn and perfume even the smallest of spaces. The hand crafted welcome sign is a reminder of this beautiful day.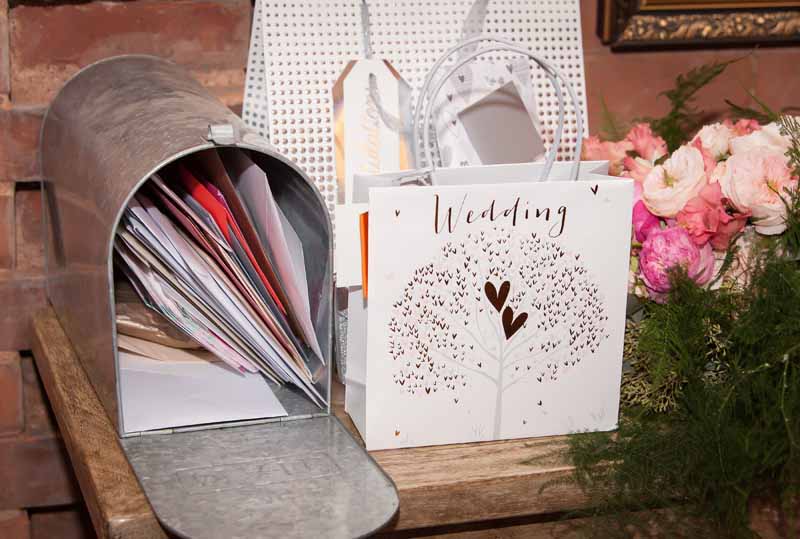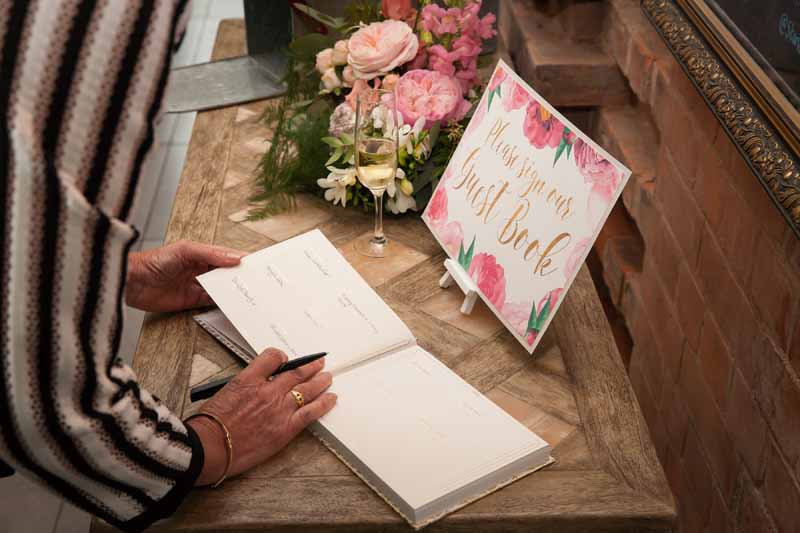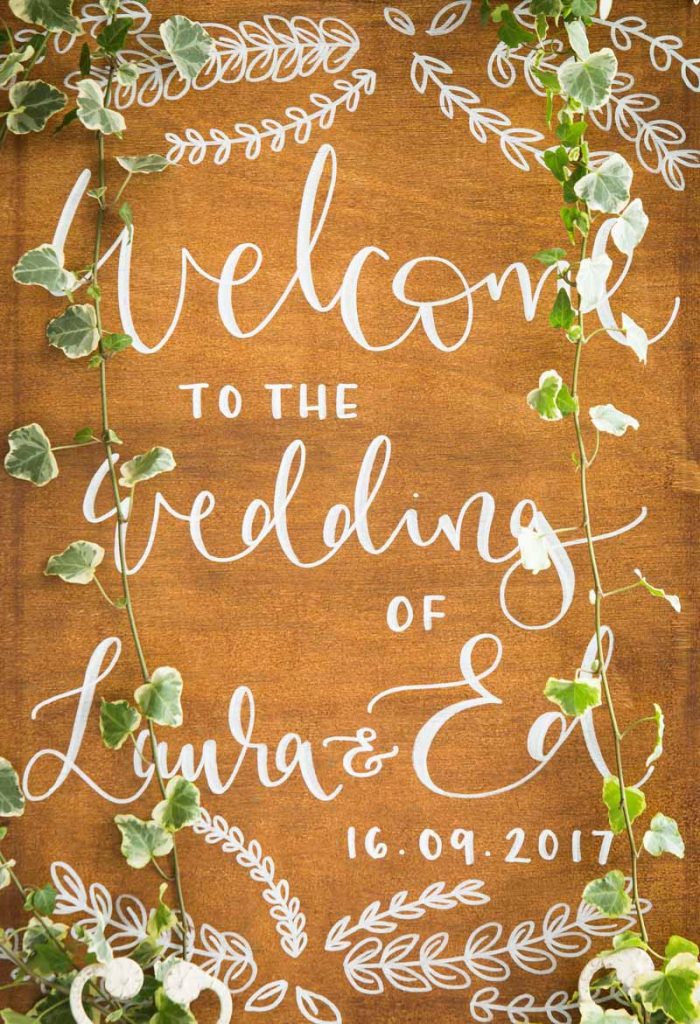 "Karen, you worked so hard to make Laura's day so beautiful, you did everything for us … & more. PLEASE THANK your husband, daughter & team for all their hard work. You are fantastic and the whole of the wedding party couldn't get over how beautiful the flowers were."
Thank you Martyn and Debbie, Father and Mother of the Bride for you heartfelt thank you card, it was an epic task for our team and we all loved every moment of creating this wedding for your family. Laura and Ed our thanks to you for being so fantastic and for sharing these beautiful photos of the flowers and decor at your wedding day.
If you are looking for inspiration for a summer garden inspired wedding then please get in touch.
Credits – Florists: Passion for Flowers // Photographer: Kirsty Whitaker // Venue: Stanbrook Abbey // Welcome Sign: The Wedding of my Dreams