Niamh and Alex were a dream couple to work with throughout the build up to their wedding. They booked Oldberrow House in Warwickshire for a tipi wedding reception and laid back festival style celebration with family and friends. We knew we were in for a treat with their list of hand picked suppliers.
'What can I say, we loved working with you and this talented team to create your wedding flowers. You gave us an opportunity to create from the heart which always brings about the best in any relationship.' Love Karen x
HAIR FLOWERS – BRIDAL PARTY PREPARATIONS
Old Berrow House was a wonderful place for the bridal party preparations Niamh and the girls had a relaxed morning and we love delivering their hair flowers  delicate bridal flower crown  and button holes over in the morning.
SUMMER TIPI WEDDING – BRIDAL BOUQUET
It is pure joy to see happiness and this image of Niamh walking down the stairs with her bouquet to be met by her mum and bridesmaids is so heart warming.
SUMMER TIPI WEDDING – FLOWER CROWN
A delicate flower crown for a boho bride, I just love this image of Byrony capturing Niamh, captured by Ed Brown.
LONGBOURNE BARN WEDDING CEREMONY – FOLIAGE FOLIAGE & MORE FOLIAGE
The ceremony venue was Longbourne Barn a gem in the Warwickshire countryside that was the perfect choice for this laid back ceremony. Foliage was key to the day and we decorated everywhere we could with a relaxed mix of foliage. The screen was incorporated into the day with beautiful images projected bringing to life this happy couple.  The giant frame was hand built for the ceremony and we loved decorating it with a mix of foliage and natural flowers to create this laid back festival styled wedding.
BRIDESMAIDS FLORAL HOOPS – BOUQUET ALTERNATIVE
Niamh choose stylish floral hoops for her girls which were easy to hold and created a great look with their hair flowers and navy jumpsuits. The bridal party line up was so chic and effortlessly stylish.
WEDDING CAR GARLAND – A MUST FOR SUMMER WEDDINGS
Gemma and I always jump at a chance to add flowers to a wedding car and the Fiat 500 was a joy to flower. The garland had to fit the festival look and feel of the wedding and be able to withstand the heat of the day and the trip from Oldberrow House over to the ceremony venue. I have to  say it was one of our favourite parts of this amazing wedding and still brings tears to my eyes.
TIPI WEDDING RECEPTION – BRIGHT FESTIVAL SUMMER WEDDING
Elite Tents set up their tipi for us to decorate and we loved decorating with hanging ivy and adding an abundance of bright festival inspired blooms on the tables.
EXTRA FLORAL TOUCHES WE CREATED FOR THIS SUMMER TIPI WEDDING
In the tipi we added an informal touch of colour and blooms from the day.
FLOWERS ON THE BAR
The vintage glass jug with a mass of pretty blooms from the day was the perfect match for the cocktail menu board and scented candle.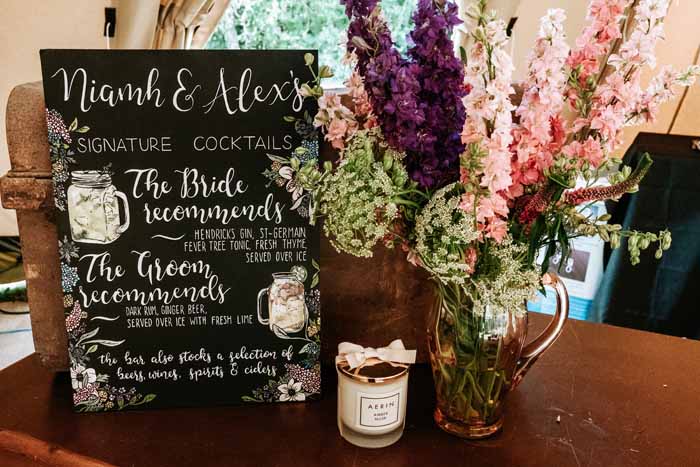 HANGING FLOWERS FROM THE TREES
The beautiful gardens at Oldberrow House have many beautiful trees and an eclectic mix of vases and hanging bottles added some colour to the green of the trees.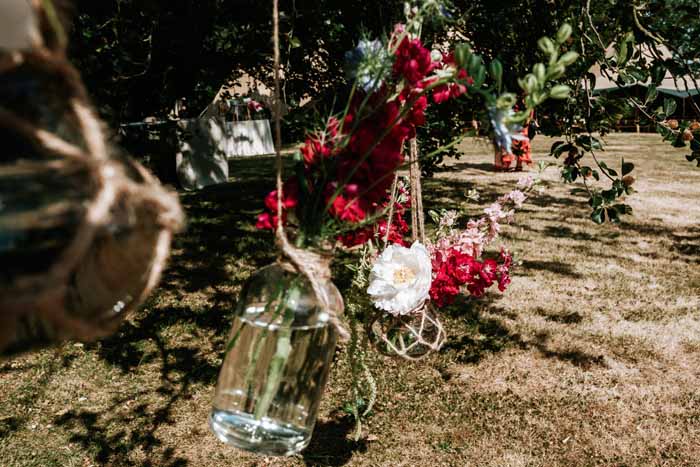 FLOWERS AMONGST THE DESSERTS ON THE DESSERT STATION
Well the dessert station was a joy for all the senses. The most wonderful display of delicious desserts from the team at Kalm Kitchen was even further enhanced by some bright florals from the day.
BRIDESMAIDS FLORAL HOOPS TO DECORATE THE PALLET TABLE PLAN
We knew we the girls would find a space to display the floral hoops later in the day and here they were casually displayed on the pallet table plan.
Niamh and Alex  Thank you both for choosing us and for your lovely note which says it all.
'I just wanted to say a big thank you to you and the team. We had the most perfect day made even more special by the fabulous people we had working with us!! I can't thank you and the team enough for your help, amazing floristry and professional service in the lead up to the wedding and throughout the day. EVERYONE was so complimentary about the flowers – the bridesmaids loved their flower rings, my bouquet was amazing, the tables just looked even better than I had hoped for and the frame around the projector looked great (!). N & A'
CREDITS – Florist: Passion for Flowers // Photographer: Ed Brown Photography // Ceremony Venue: Longbourne Barn, Kineton, House and grounds for reception: Oldberrow House // Tipi company: Elite Tents // Catering: Kalm Kitchen Ltd // Hair: Michael Gray // Make Up: Bryony Dalton // Dress: Alice Temperley