This winter wedding at Hampton Manor was a delight from start to finish. With so many amazing floral features. We have posted part 1 (the bouquets and deconstructed arch at Hampton in Arden church). Now we bring you Rachel and James and their stunning winter reception at Hampton Manor. The Courtyard was transformed by candlelight,flowers and foliage. Guests entered an enchanted winter wonderland for the wedding breakfast and evening celebrations. The room felt warm and full of love as guests and family celebrated together.
Tall Gold Stands & Candles for an Enchanted Winter Wedding at Hampton Manor
Our brief for the Courtyard was elegant,dreamy and candlelit. The Courtyard tables were filled with a mix of white candles running the full length of the tables. Relaxed foliage softened the tables whilst tall gold stands bedecked with foliage and the softest of blooms added richness and elegance to the scene. The deconstructed arch from church was moved and then rebuilt and extended to create the most amazing backdrop to the top table, our team worked tirelessly to transform this into an Enchanted Winter Wedding at Hampton Manor.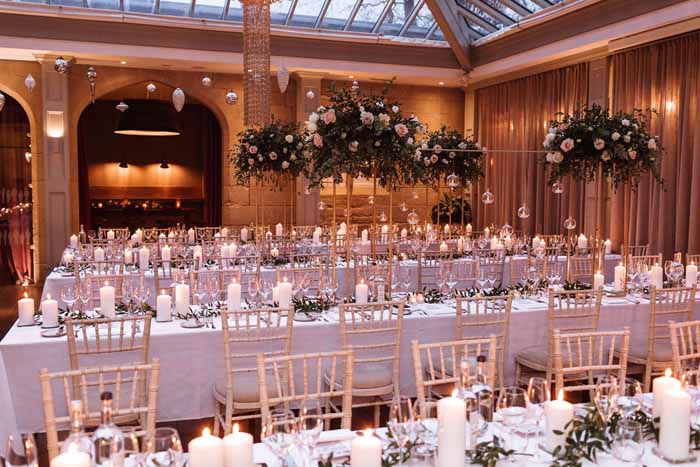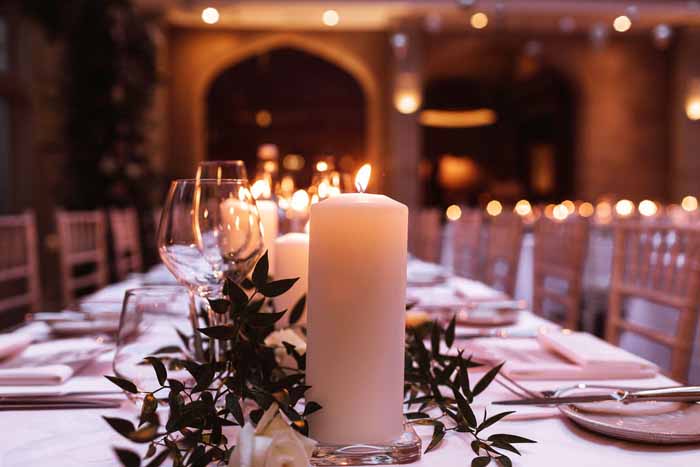 Thanks Karen

We cannot believe how the flowers both at the Church and Hampton Manor formed the most beautiful backdrop to the whole day – even in my planning dreams I couldn't have foreseen how perfectly you and your team would deliver for us!!!

It was a dull dreary damp December day brought to life by all those who took part and supported us on that day. It was truly magical and I thank you from the bottom of my heart!!!

Big Hugs xx
If you are planning a winter wedding at Hampton Manor we would love to create a wonderful setting for your day.
Karen x
Credits: Florist Passion for Flowers // Venue: Hampton Manor // Photographer http://www.annafowler.com/