Catie and Sion chose Birtsmorton Church and Court for their elegant winder wonderland wedding with white silver and green colours and highlights of burgundy red.
TRAILING BRIDAL BOUQUET – DEEP RED WINTER TONES
Catie's elegant wedding dress suited a neat, trailing bouquet. Natural flowers we included were a mix of roses, lisianthus, petite larch cones, and sprigs of eucalyptus to add a trail to the bouquet. Her choice of bouquet was also dear to her as her mother carried an elegant trailing bouquet at her own wedding.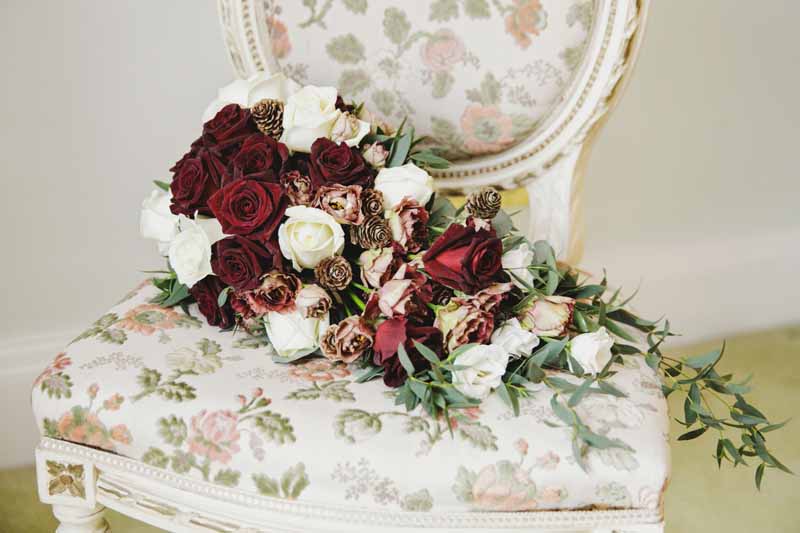 WINTER BUTTONHOLES
Winter button holes included a touch of larch cone for a wintry look.
CHURCH CEREMONY AT BIRTSMORTON COURT
The church entrance was decorated with a bespoke white welcome sign, silver lanterns and bunches of local mistletoe. Inside this country estate church the tall candlesticks were decorated with flowers & foliage tied with deep burgundy ribbon. Tall silver candelabra decorated with flowers from the day made a wonderful frame for the wedding ceremony. The beautiful deer were a personal touch bringing back memories for Catie and her mother.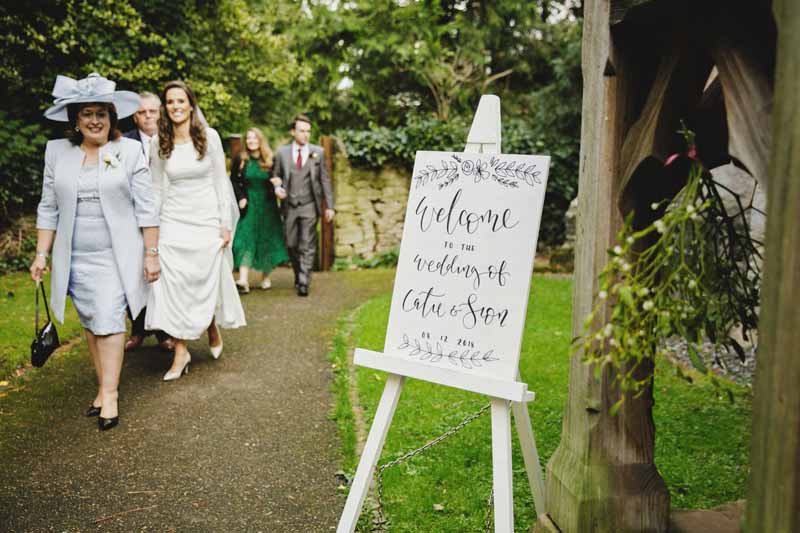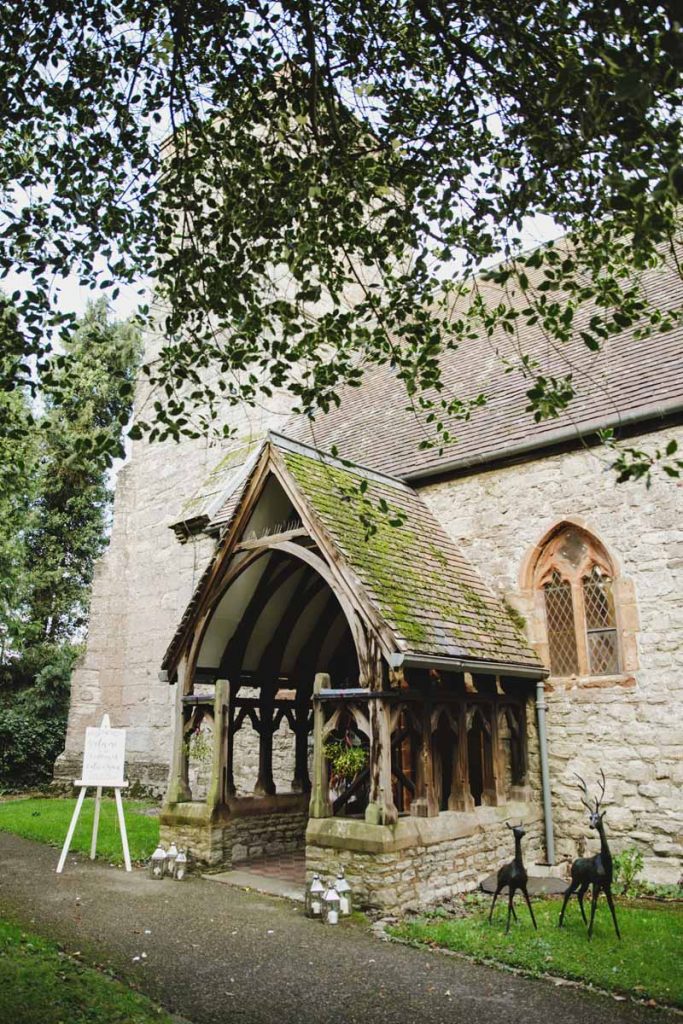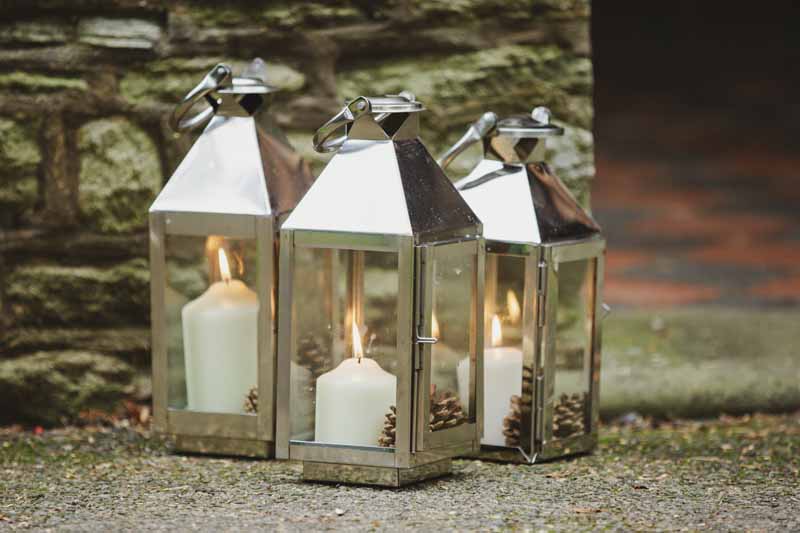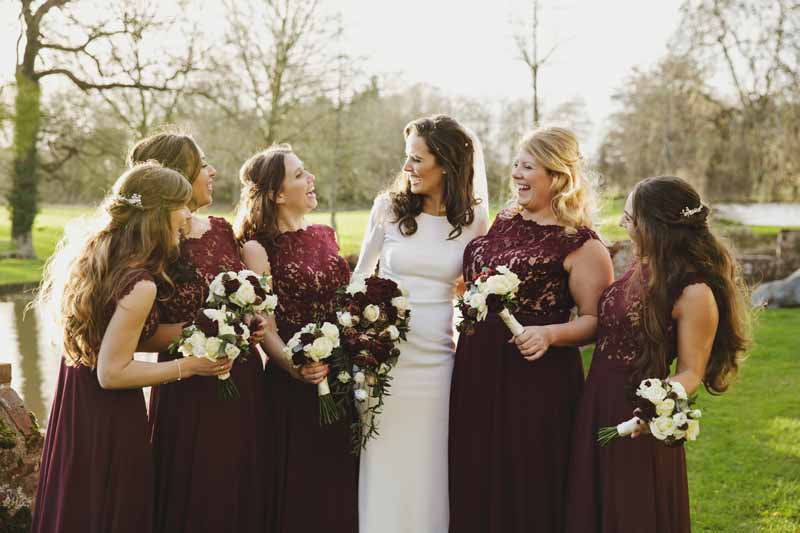 CENTREPIECES AT BIRTSMORTON COURT – CANDELABRA & FOOTED BOWLS
The winter elegance continued at Birtsmorton Court with elegant silver candelabra and footed bowls filled with a relaxed mix of blooms and foliage from the day.  The top table was framed by the tall candelabra with an elegant central arrangement and a mix of vases and votives were added.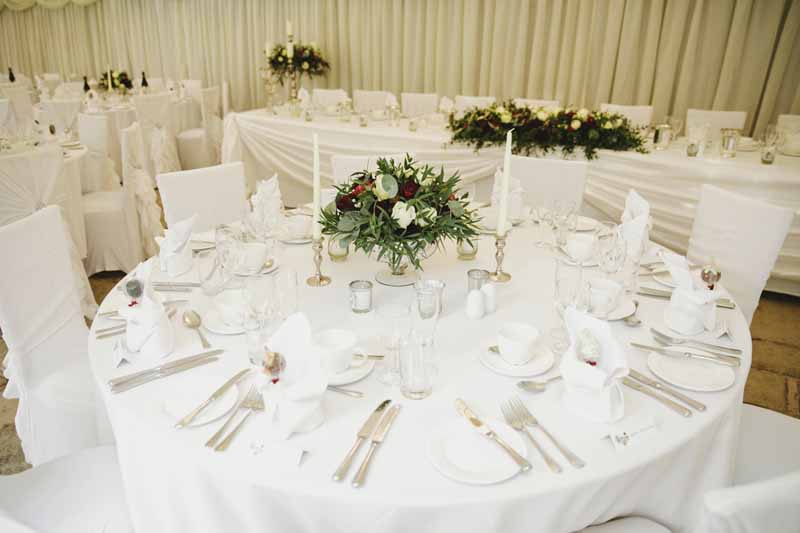 EXTRA FLORAL DETAILS – TABLE PLAN GARLAND
The table plan mirror continued the look with a garland of foliage and flowers from the day bringing colour to the look.
We loved creating the flowers for Catie and Sion and were delighted to receive their note of thanks
'Just wanted to say a huge thank you for all you did for our wedding on Saturday! The flowers were just incredible, we really could not have wished for any better! It made our day truly special.'
Credits: Florist: Passion for Flowers // Venue: Birtsmorton Court // Photographer: Gemma Williams