We love winter weddings but don't usually wake up to a fresh coating of snow on the wedding morning. This added to the gorgeous winter look for Zeb and Steph who married at Blackwell Grange.
BRIDAL BOUQUET
Steph carried a winter bridal bouquet with deep burgundy red roses, softer toned quicksand roses, touches of nigella seed heads and a mix of eucalyptus to finish.
WINTER WEDDING BLACKWELL GRANGE – THE CEREMONY
The ceremony at Blackwell Grange offers a huge fireplace with burning fire and a wonderful place to decorate for a winter wedding. The stunning piece on the fireplace continued the wild winter look. Steph loves horses and ponies and had a surprise visit when she came out from her ceremony.
RUSTIC CRATE WEDDING TABLE PLAN
A rustic table plan welcomed guests and made a great keepsake for the bride and groom.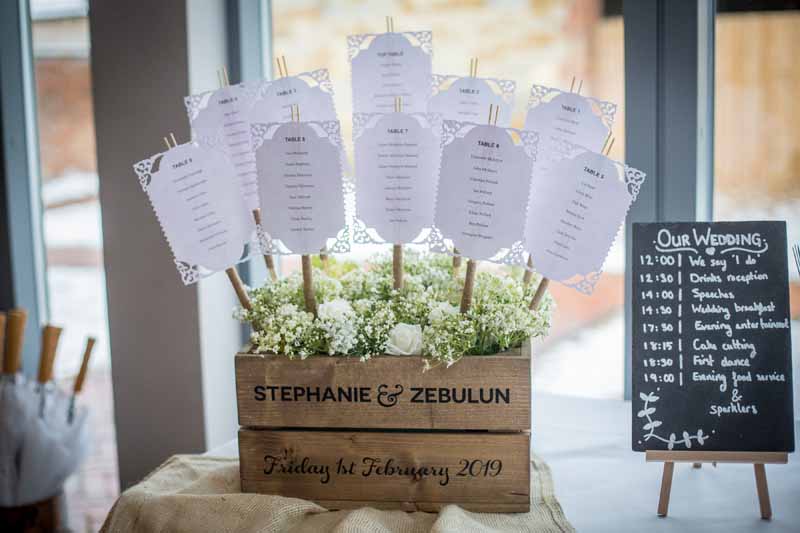 BRIDESMAIDS BOUQUETS RESTING IN BRONZE VASES
Each bouquet featured a single type of bloom from honey moon tulips, parrot tulips, and  avalanche roses with the colour and ribbon linking the look.The softest silk ribbons tied around the bridesmaids bouquets presented in bronze vases.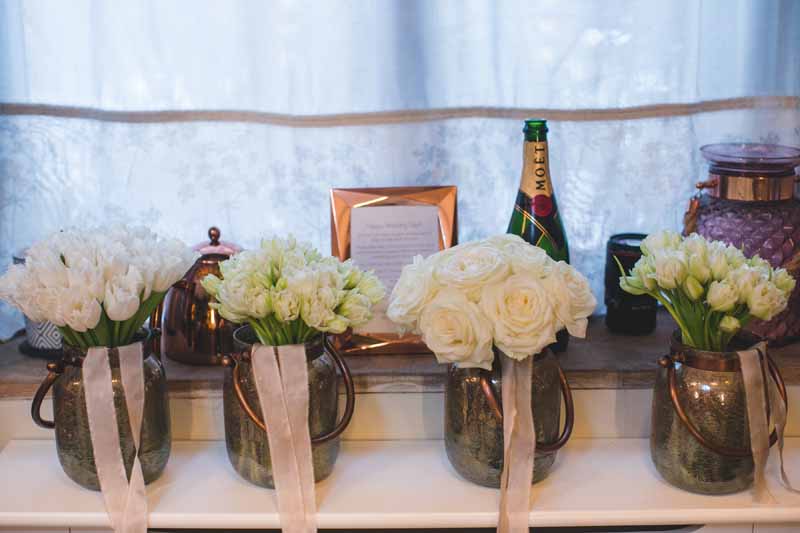 TOP TABLE FLORAL GARLAND
The top table garland with the addition of gold and glass lanterns decorated the top table for a  wonderful winter wedding.
Credits: Florist: Passion for Flowers // Venue: Blackwell Grange // Photographer: Kelly Cotter Photography