Andrea and Mitch were living out in New York when they contacted us about creating the flowers for their summer wedding at Sudeley Castle. We had initial skype exchanges and met when the bride traveled over to the UK. We loved working with Andrea to create natural just picked flowers for her wedding in an English Castle. As you can imagine this historic venue was much admired by the visitors from The States.
ORGANIC FREEFORM DUSKY PINK ROSE BOUQUETS
Whilst the bridesmaids carried bouquets with a mix of dusky pink tones the bridal  bouquet had a more organic freeform design with plenty of trailing jasmine, queen anne's lace, creamy peonies, wax flower, delicate astilbe and roses.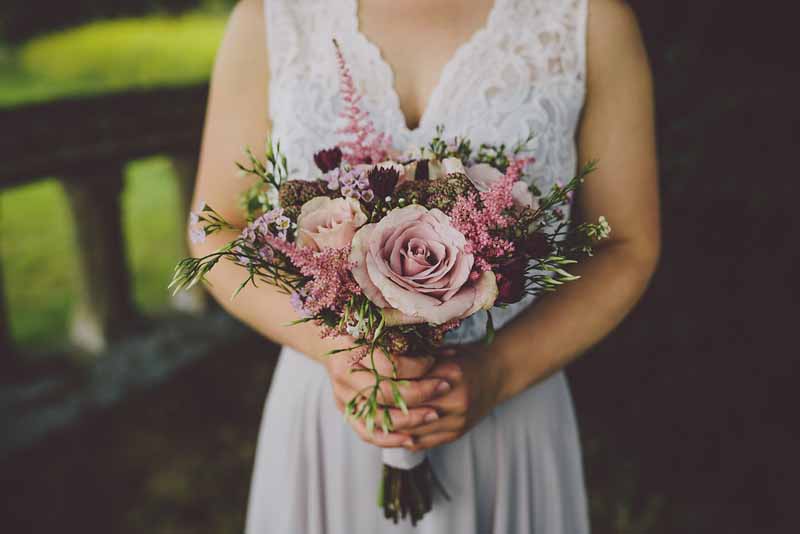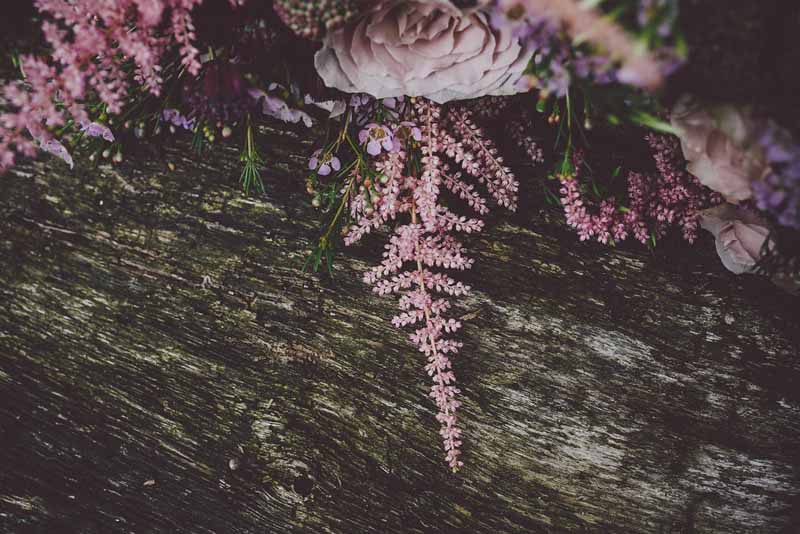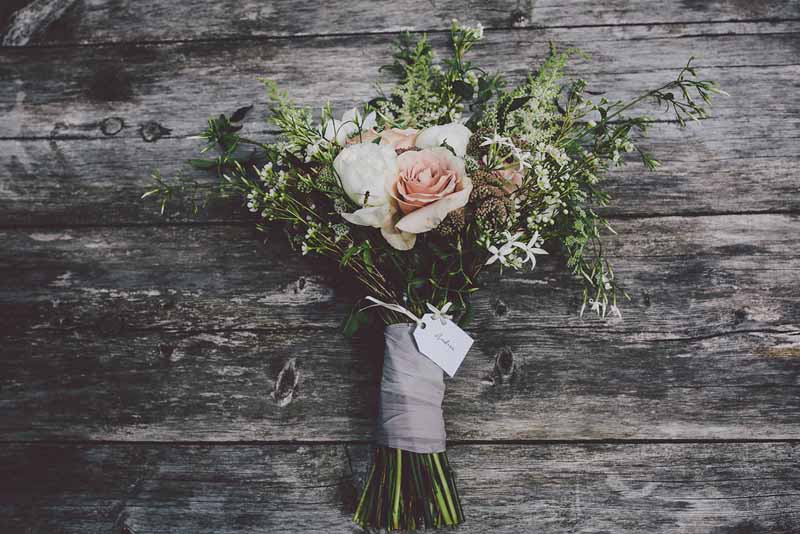 DUSKY PINK ROSE, ASTILBE, WAX FLOWER & JASMINE – HEAVENLY BRIDESMAIDS BOUQUETS
The brides dress was  Rivini and suited the organic style of flowers we had selected together. The bridesmaids carried heavenly bouquets of dusky pink rose, astilbe, deep toned astrantia,wax flower and scented jasmine. Fabric from the girls dresses loosely wrapped around the stems of all the bouquets brought the look together.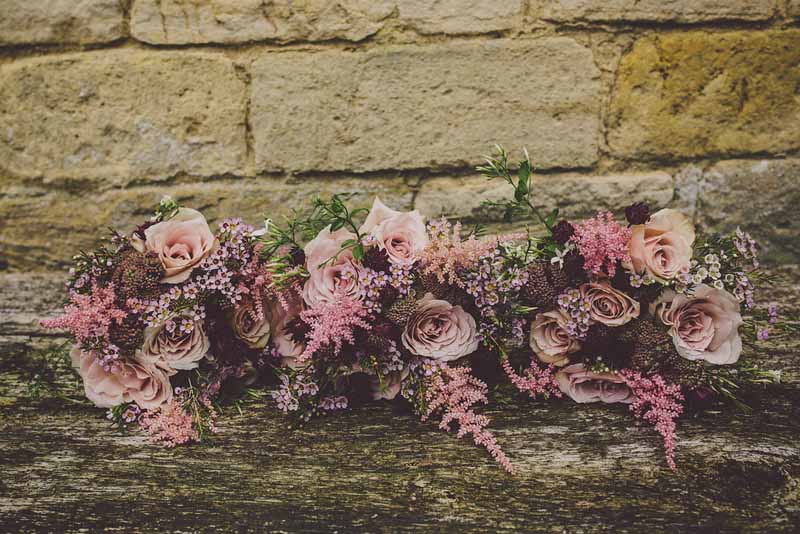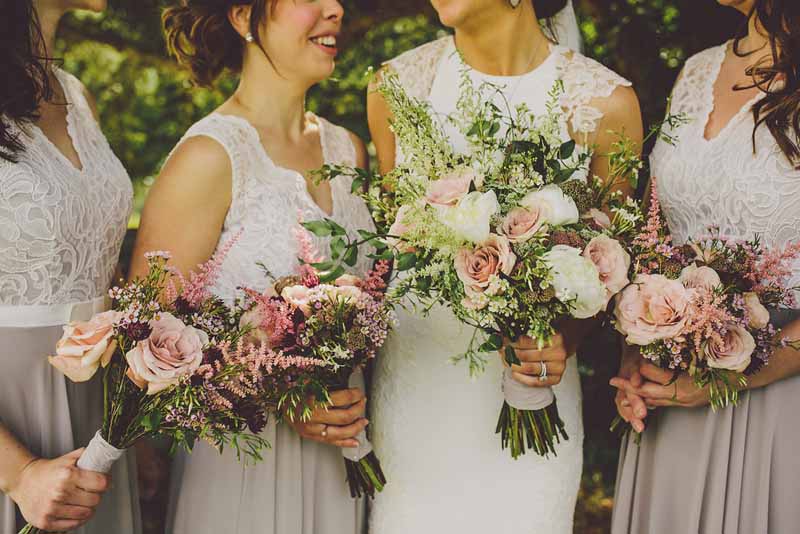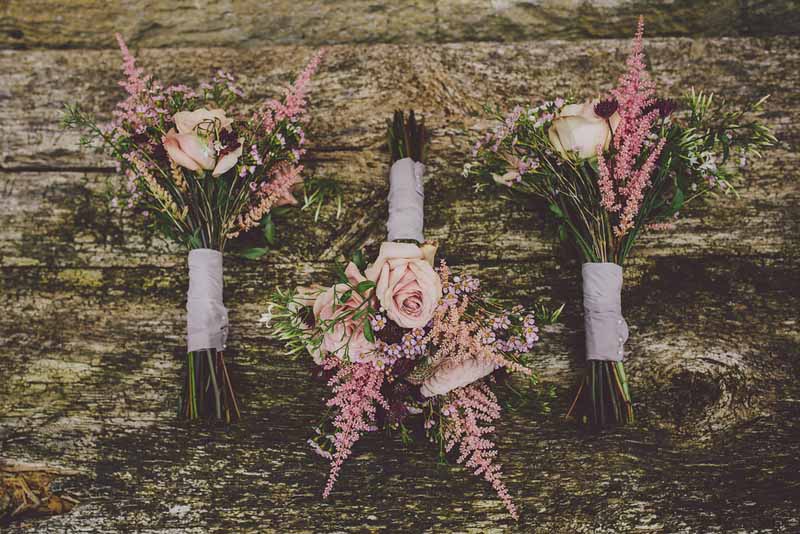 ROSE & VERONICA BUTTON HOLES
Mitch looked dapper in his Paul Stuart suit teemed with a just picked veronica, rose and sedum button hole.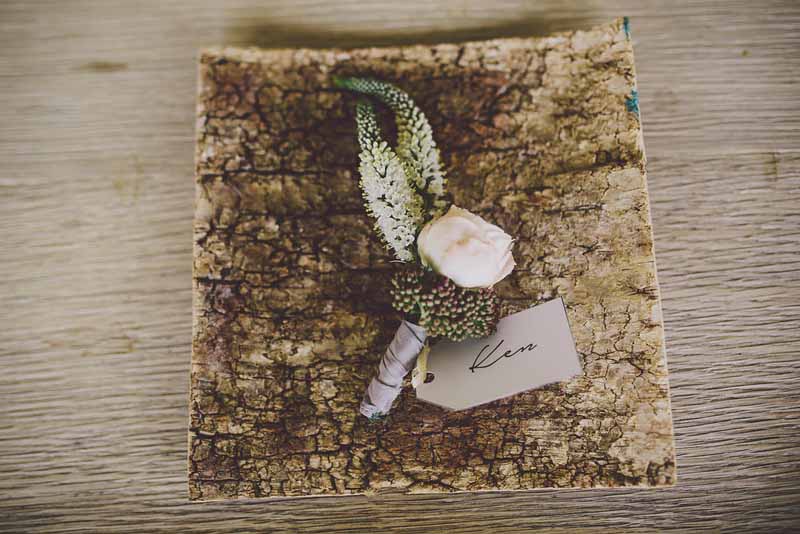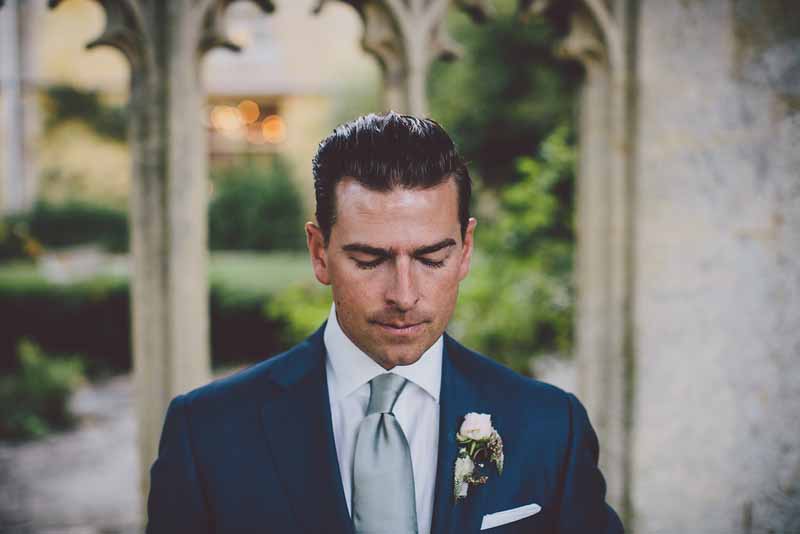 DUSKY PINK ROSE CORSAGES
The ladies had corsages with dusky pink roses, sedum and snippets of baby's breath, presented on bark.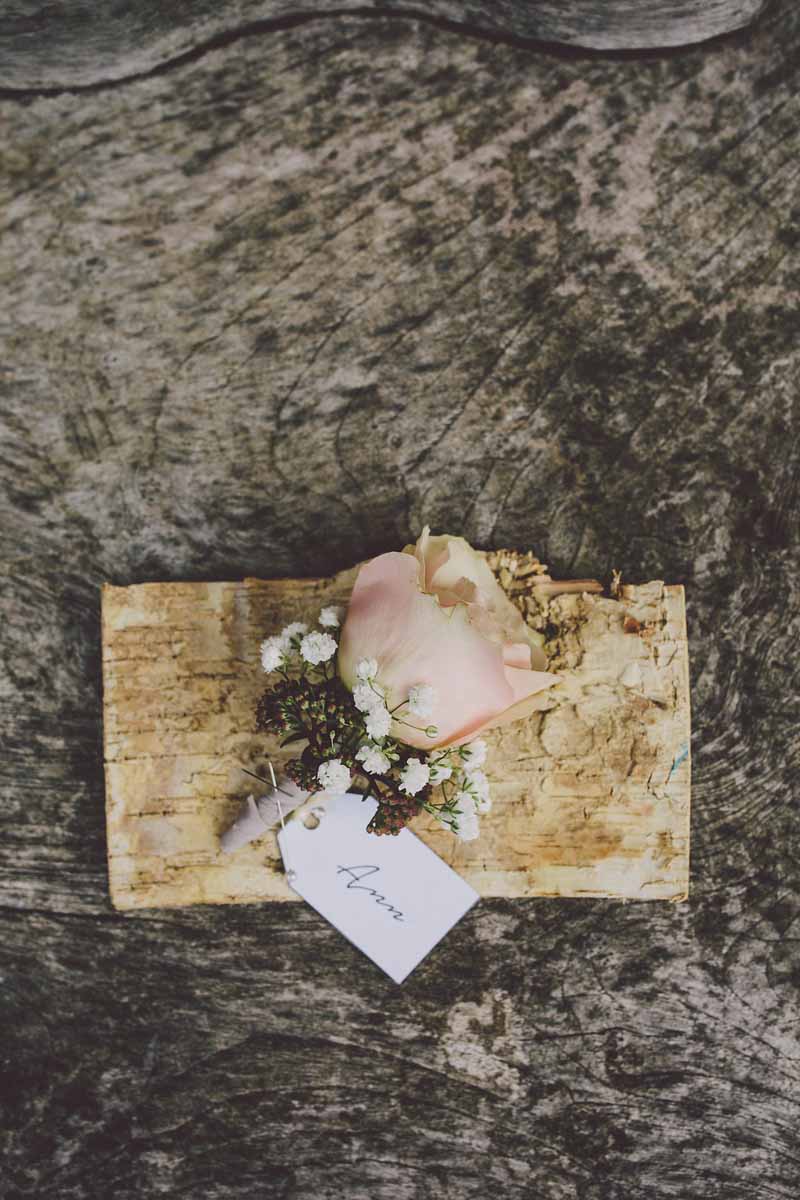 CHURCH WEDDING FLOWERS
The chapel at historic Sudely Castle is so romantic decorated with candles to the altar.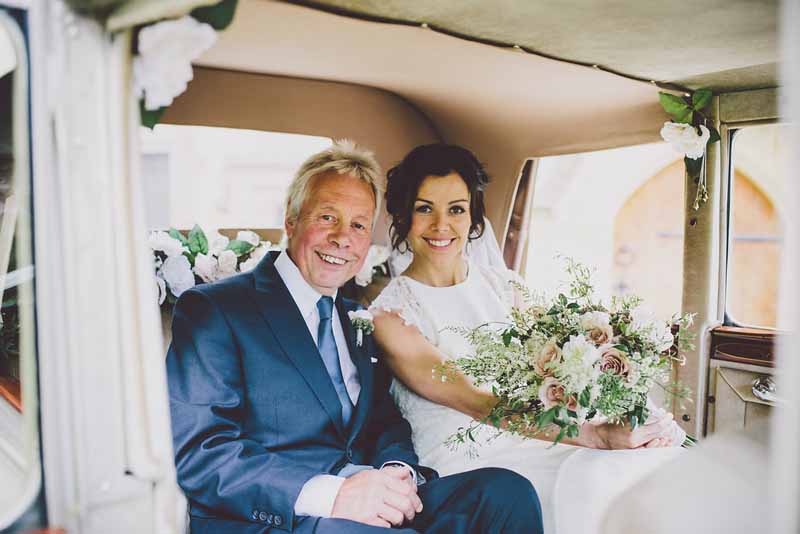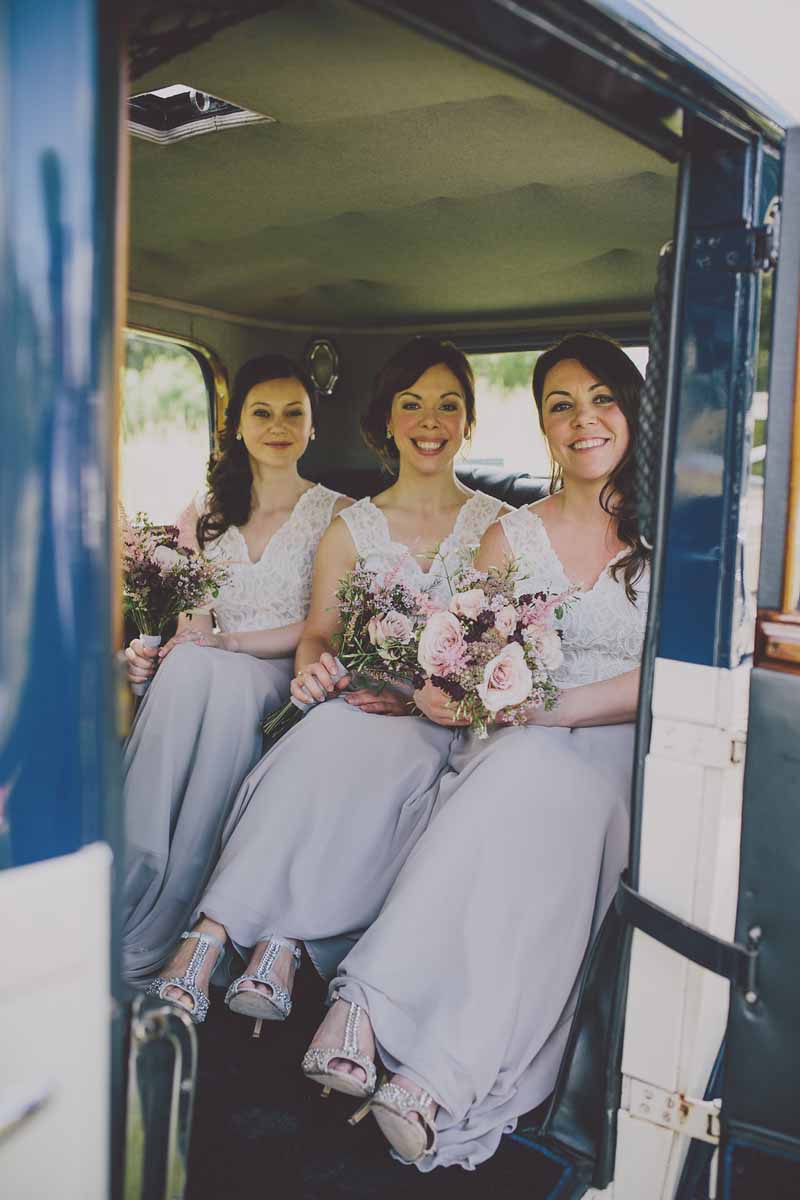 GYPSOPHILA GARLANDS & PEW ENDS FOR CHURCH
Andrea requested dreamy garlands of white flowers and simple bunches of gypsophila for the pew ends. The chapel with its history and wonderful workmanship does not suit over embellishing and this style of decor created just the candlelit style the couple hoped for.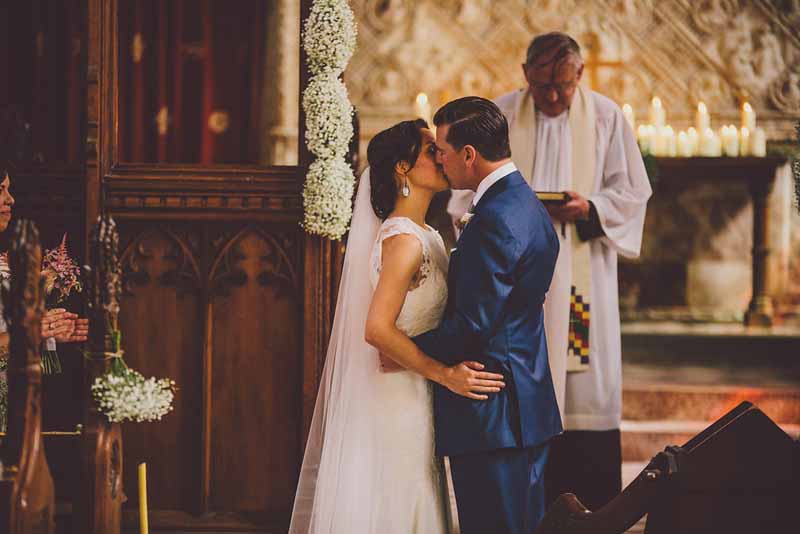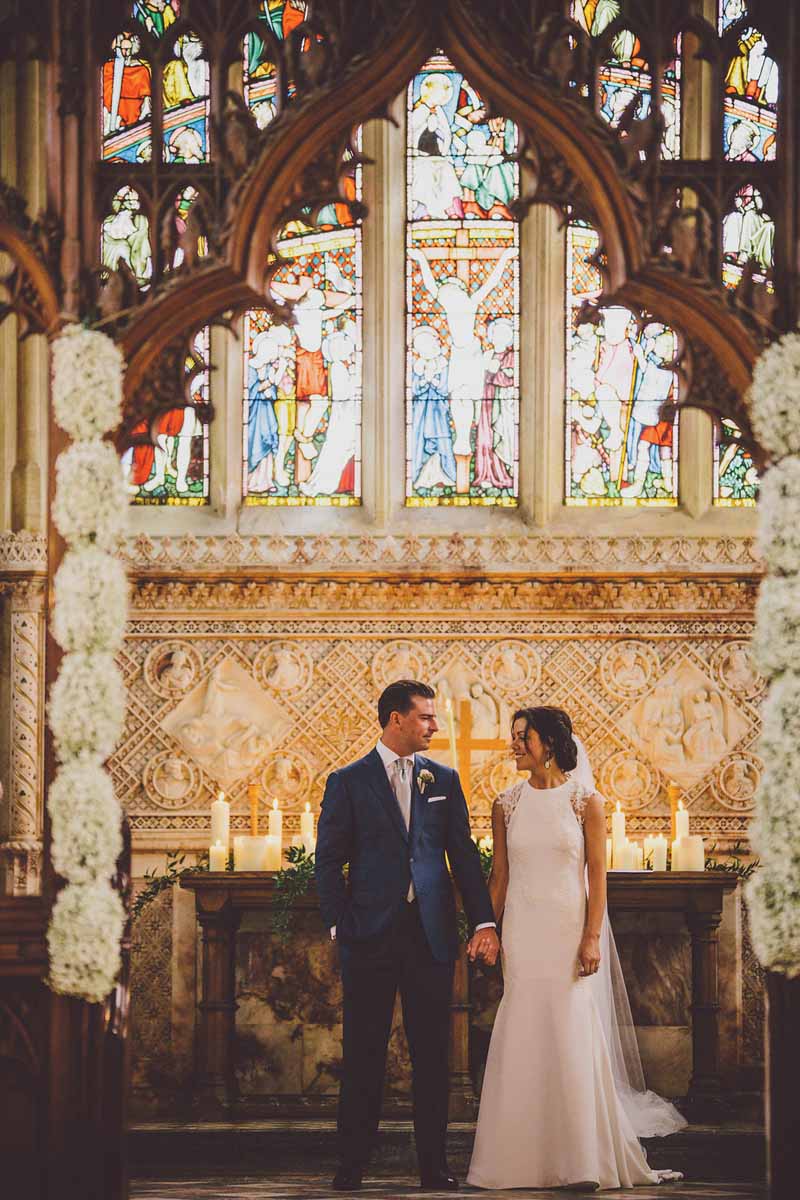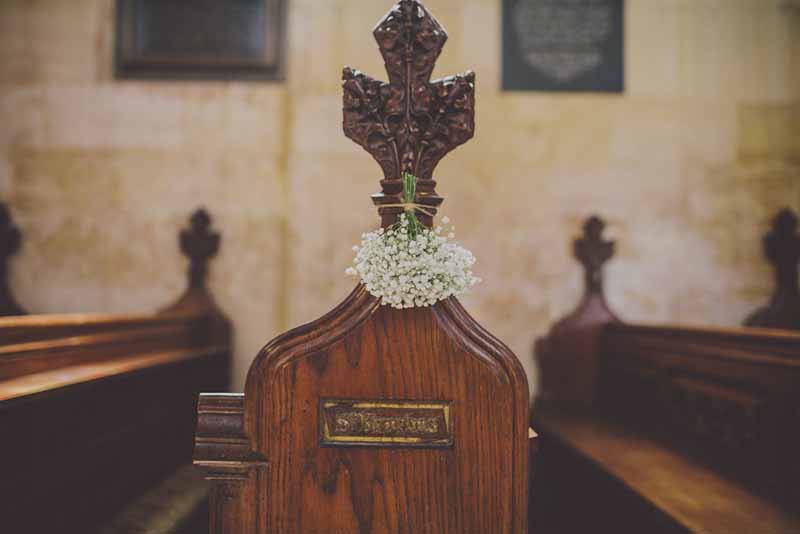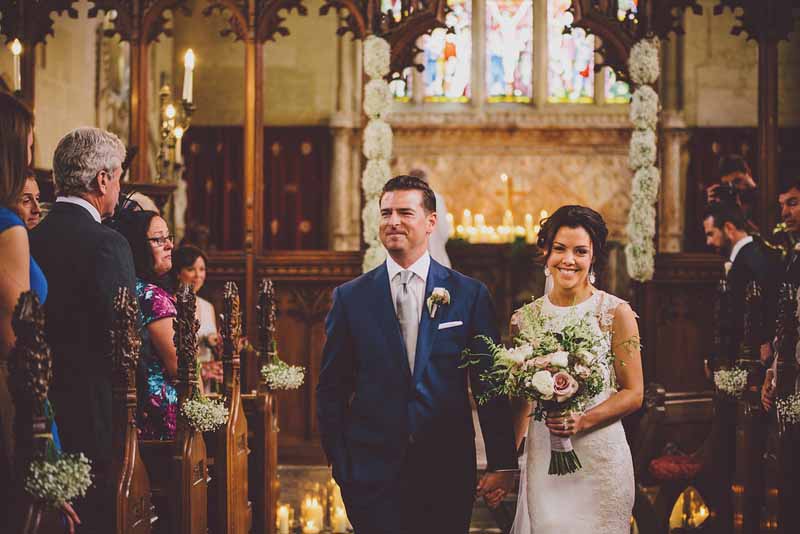 CONFETTI
Baskets of confetti were ready and waiting as the couple left the chapel.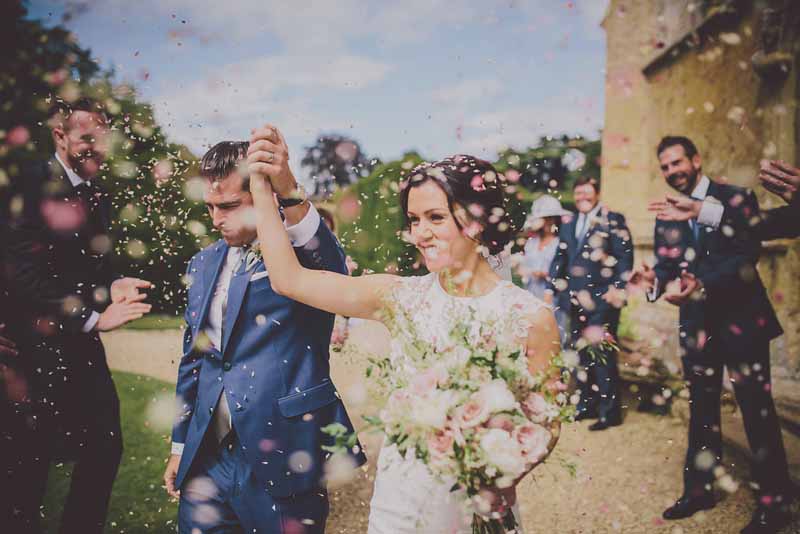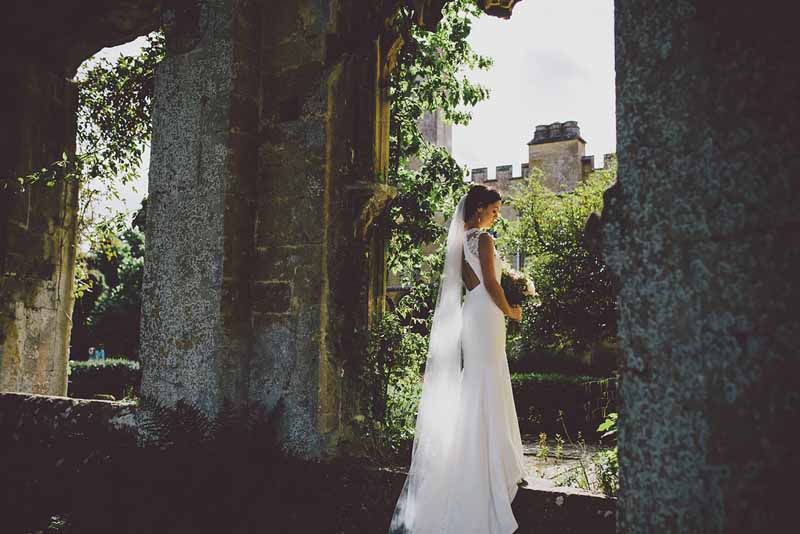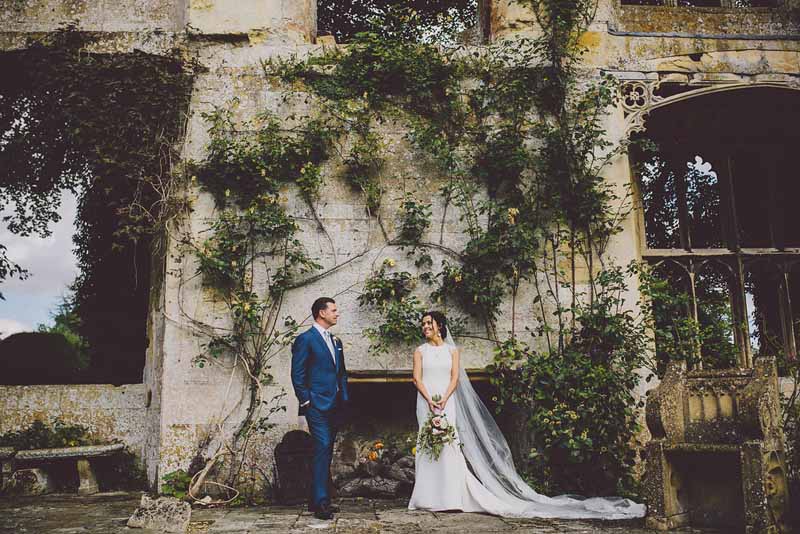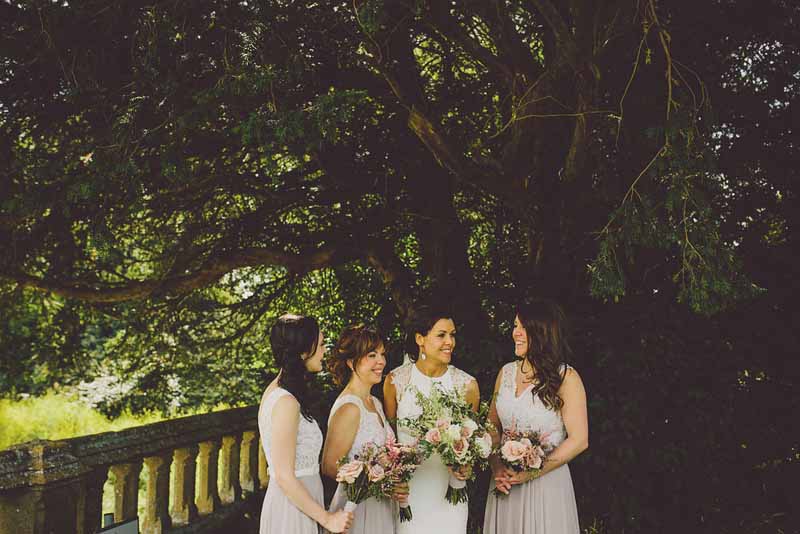 CRYSTAL GLASS CHARGER PLATES & GYPSOPHILA PLACE SETTINGS
Delicacy and elegance were added to the tables with elegant crystal glass charger plates and delicate place settings.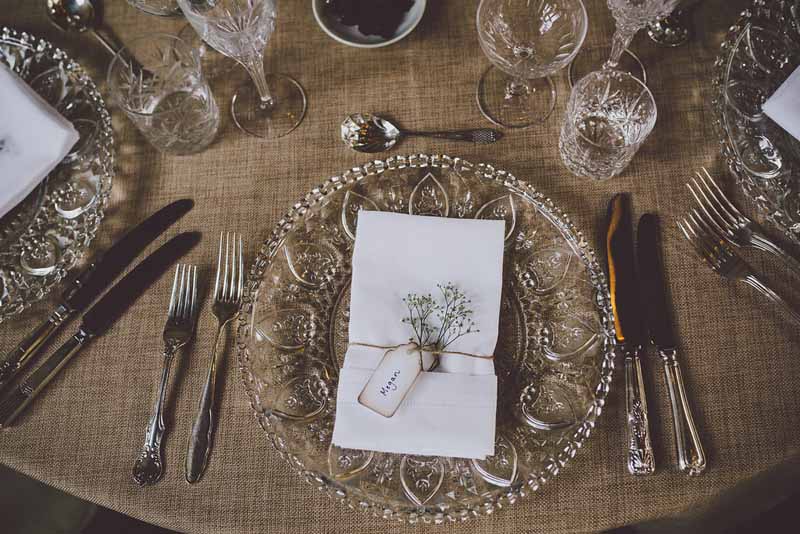 CRYSTAL GLASS DECANTERS, GOLD VASES ON SILVER TRAYS – SUDELEY CASTLE CENTREPIECES
We scoured our curated collection of crystal glass decanters, gold vases and antique silver trays to create the centrepieces.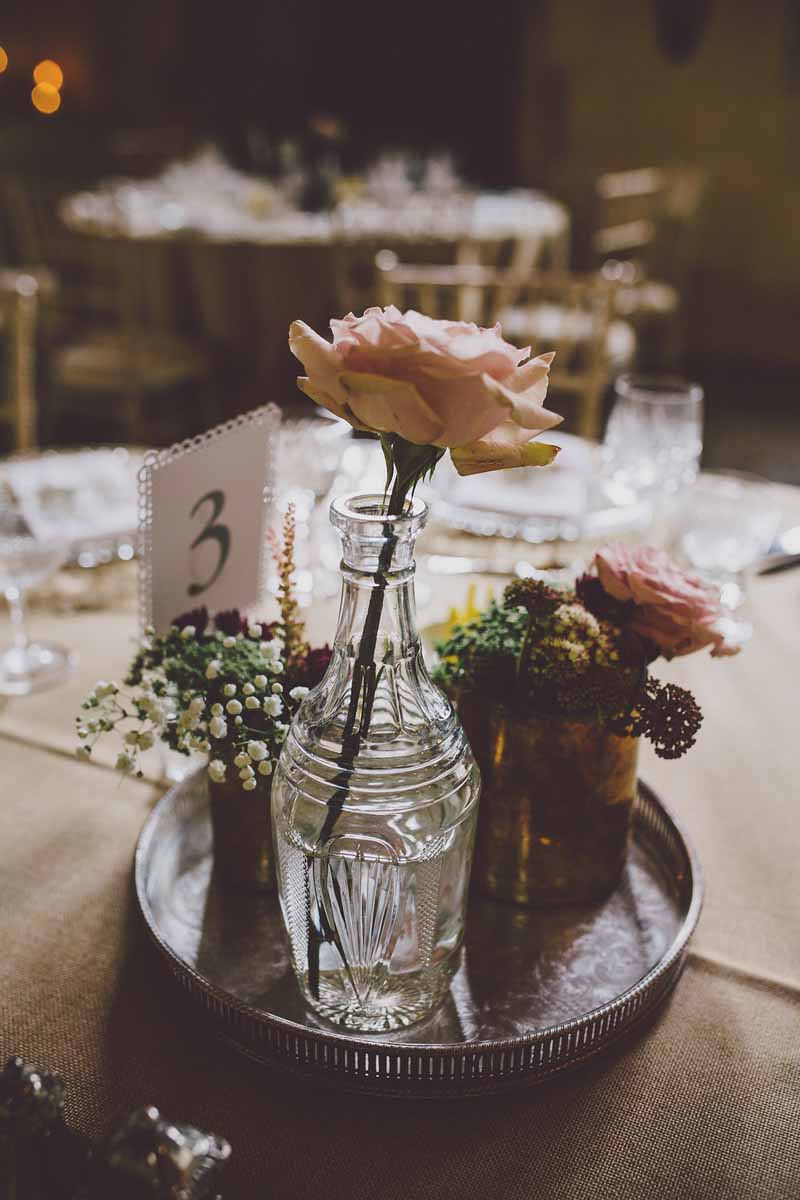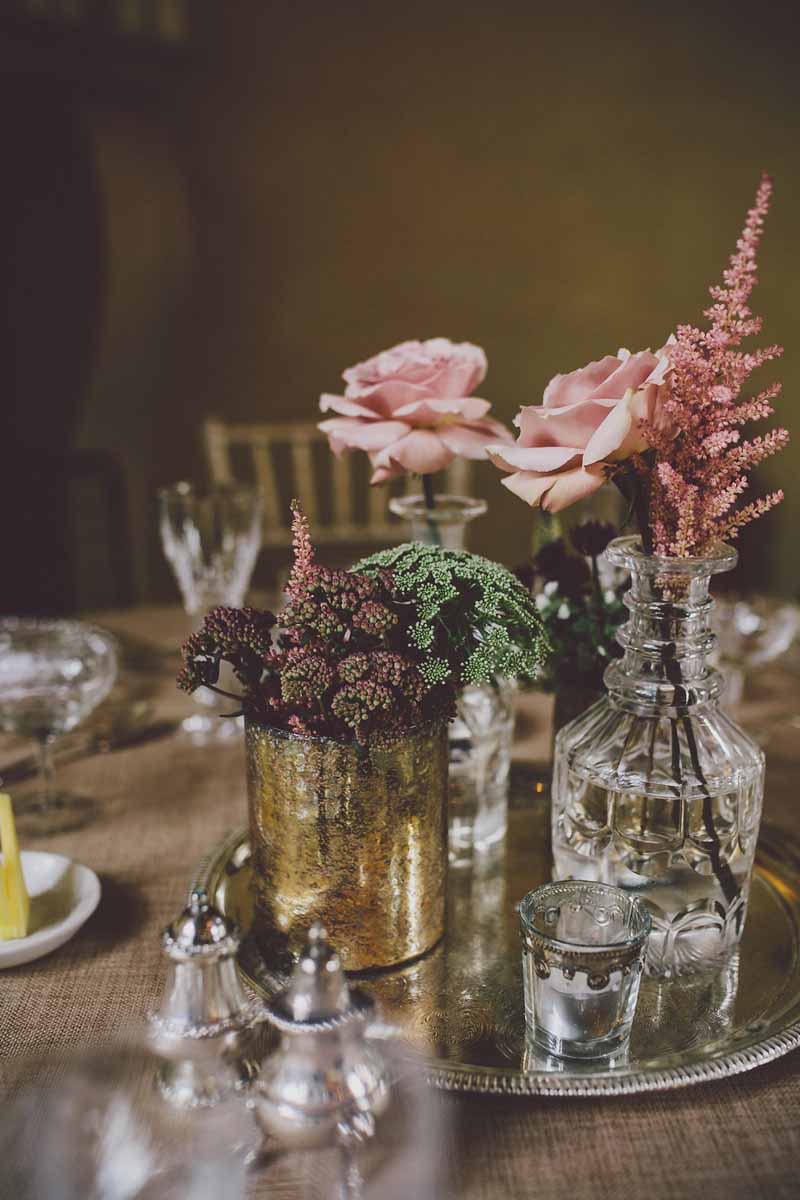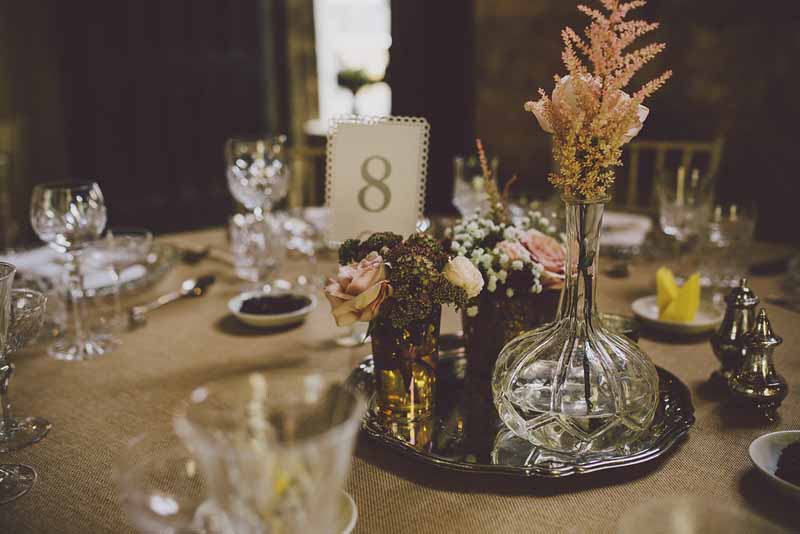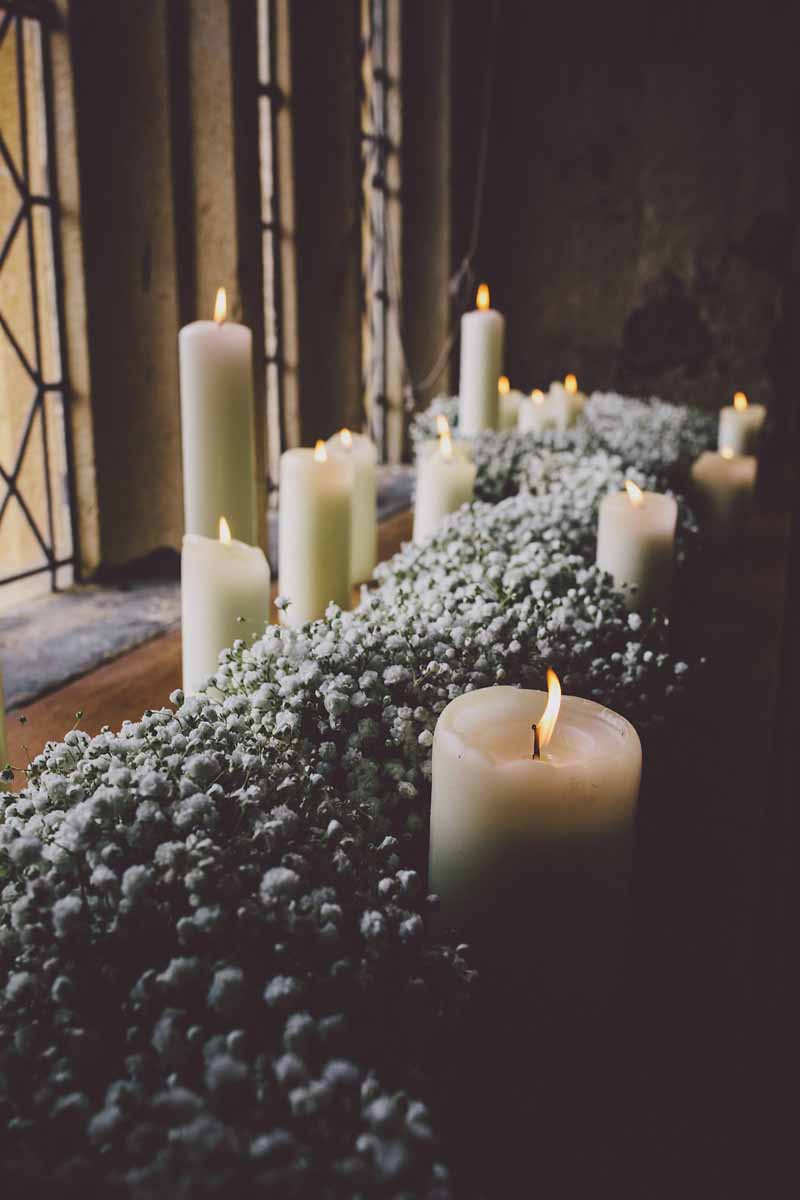 MIX OF SILVER GOLD VASES AND CRYSTAL GLASS DECANTERS FOR TOP TABLE FLOWERS
The top table was decorated with a mix of silver and gold vases with a selection of our curated glass decanter finished with soft organic just picked flowers in keeping with rest of the wedding.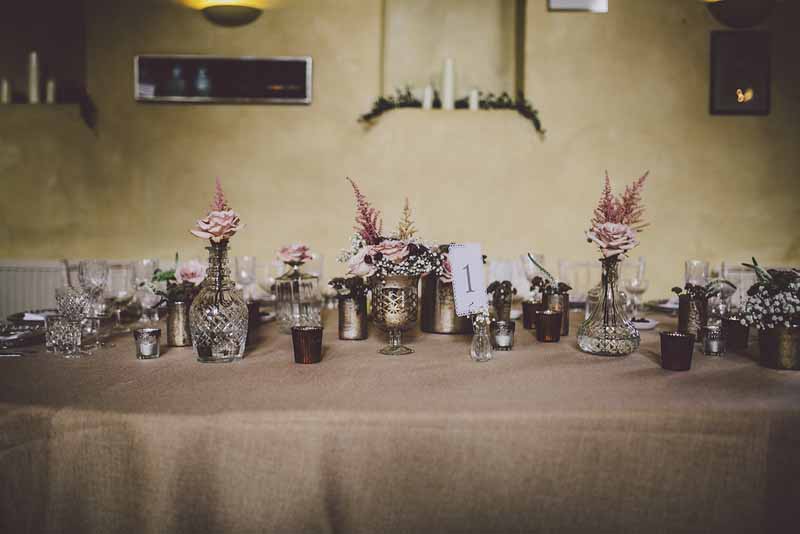 Thank you Andrea and Mitch for sharing your beautiful wedding day with us.
Credits – Florist: Passion for Flowers // Venue: Sudeley Castle // Photographer: TenTwentyOne photography