Hannah and Rishi were married at The Ashes, the most beautiful countryside venue, a place where you feel relaxed as you arrive and revived when you leave. We were delighted to be asked to work with Hannah and Rishi on their wedding as we had the pleasure of creating flowers for Rishi's brother's wedding at Shustoke Barns previously.
BRIDAL BOUQUET
The bridal bouquet was a mix of hydrangea and roses in beautiful tones. The whole look was chosen to remind Hannah of the family garden.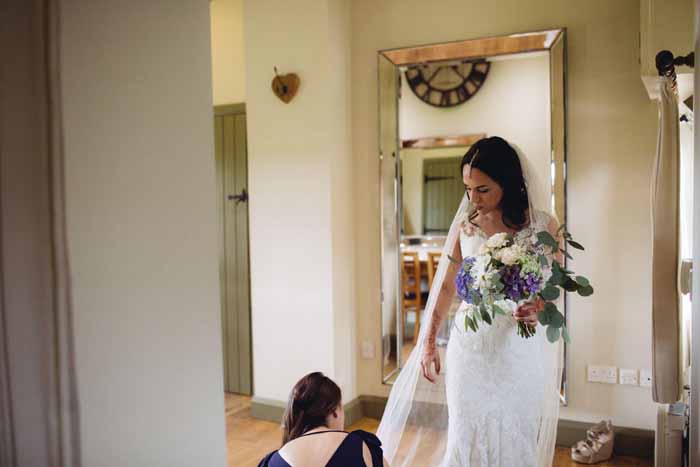 BUTTON HOLES
The boys sported just picked rustic buttonholes and enjoying posing under the photo backdrop with beautiful watercolour tones.
THE ASHES WEDDING CEREMONY
The barn at the Ashes is a warm and inviting ceremony space and we love adding a feature arch for the ceremony. Lashing of eucalyptus foliage, ivy and hanging amaranthus set the scenes with colours being added to tie in with Hannah and Rishi's colours from the day.
FLORAL ARCH OVER DOORWAY
The floral arch proved popular as a photo backdrop for some fun photos on the day.
THE ASHES WEDDING CENTREPIECES
Hannah and Rishi had collected a lovely selection of antique vases, copper coffee pots and smaller bowls we incorporated into the table decoration with the addition of some crystal glass. Delicate stems of ivy and soft scented flowers were added bringing colour to the tables. I loved the old photos that Hannah had displayed in photo frames for each table.
COUPLE PORTRAIT PHOTOS AT THE ASHES
The couple found some tranquil spots for their portrait shots beautifully captured by Joanne Jacobs.
Thank you, Hannah and Rishi for sharing and for your lovely words. As always weddings and in particular our couples are the reason we love what we do.
"Looking through them reminds me of how beautiful you made our special day. Thank you from the bottom of our hearts."
If you are planning a barn wedding or need inspiration for a floral arch then do get in touch.
CREDITS, Florist: Passion for Flowers // Venue: The Ashes // Photographer: Joanne Jacobs