Maria and Rik are such a photogenic couple and the loveliest of clients. Maria and I enjoyed many happy hours planning the designs for her summer church wedding and reception at Shustoke Farm  Barns.  We had the pleasure of creating flowers for her sister's wedding a couple of years back so jumped at the chance to work with these lovely people again. Add to the mix that Steve Gerrard was flying back to capture their day and we knew a good day was to be had by all.
ORGANIC STYLE DEEP PINK BOUQUETS
The organic style of bouquets suited Maria's dress chosen from our friends at Tilly Trotters Bridal in Leamington. A hand chosen selection of blooms including deep pink dahlia, scabious and soft pink roses were combined with a mix of textured foliage for this late August wedding.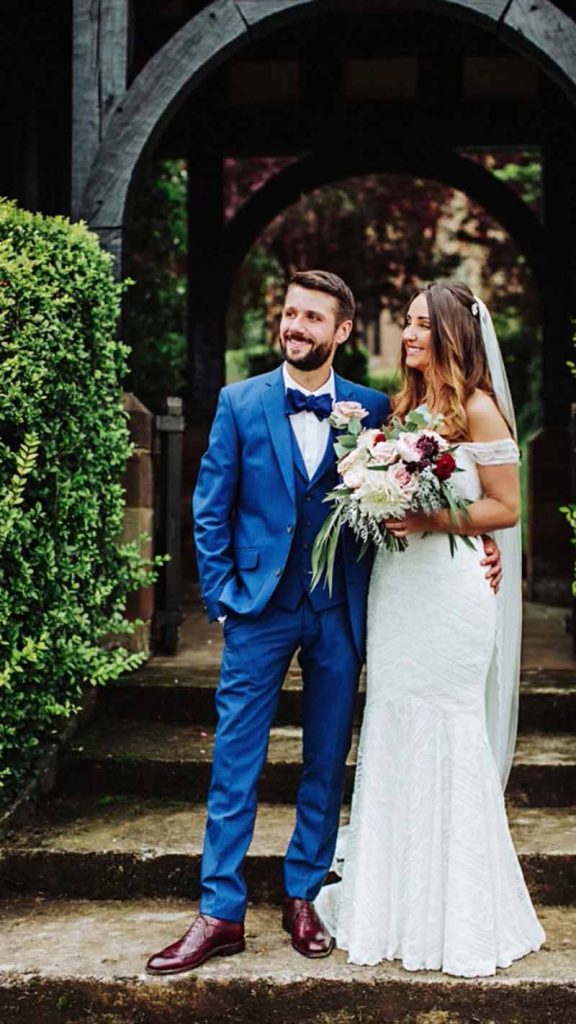 ORGANIC STYLE FLOWERS – CHURCH ARCH
The tiny church at Corley Moor is a real hidden treasure, filled with candlelight it was overflowing with emotion for this wedding. The organic style arch was created to work with the natural beauty of the weathered stone. A base of foliage with trailing amaranthus and natural flowers accentuated the beauty of of the church so much so that the Vicar was heard to comment "I should have flowers hanging for every wedding"
ORGANIC STYLE FLOWERS – TABLE CENTRES TALL AND LOW
We continued the organic style florals in to the reception. We styled the tables with a mix of tall and low table centres, keeping the flowers and foliage organic and lush. Tall designs on bronze/gold stands or tall bronze vases with large urns for the top table overflowing with natural organic styled flowers and foliage. Fresh rosemary was added to the place settings where everyone had their name in gold.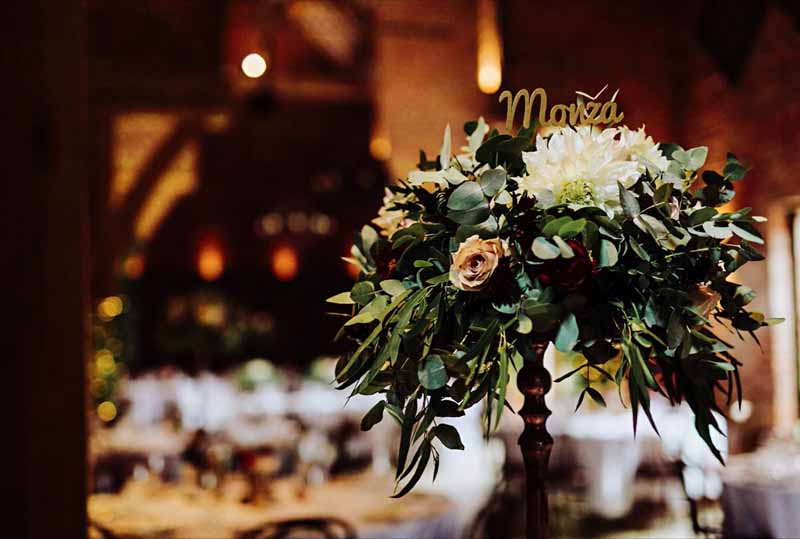 EXTRA STYLING DETAILS
The courtyard at Shustoke is gorgeous with its olive trees and natural planting. We had fun decorating the bike for Rik and the boys as well as adding extra styling details to the table plan. For a welcome touch we added rococco style candlesticks and foliage, as well as decorating their mirror table plan with a foliage garland and we always love adding our floral touch to a wedding cake table.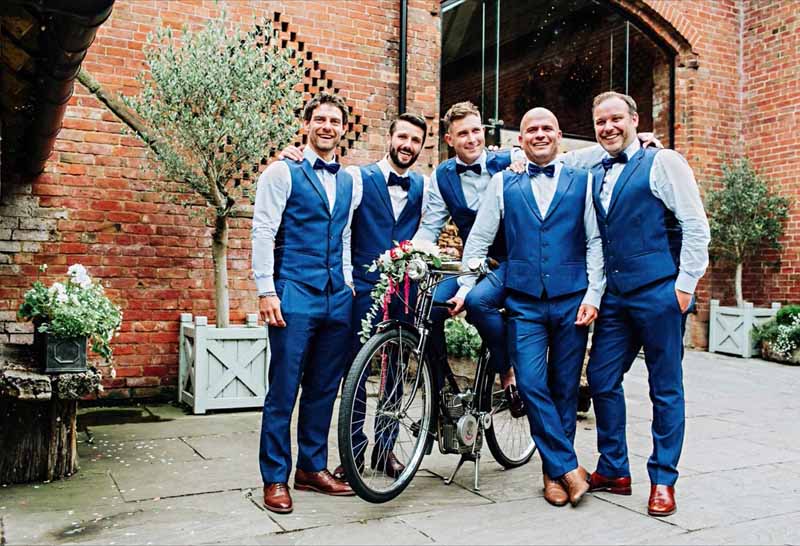 Thank you Mr and Mrs Hackett for sharing your day. We loved being a part of your wedding.
Karen x
If you are planning a wedding a Shustoke Farm Barns, or a similar barn style venue and like our floral designs (organic style flowers in particular) and approach we would love to hear from you. Please get in touch and see if we are available.
Credits – Florist: Passion for Flowers // Photography: Steve Gerrard // Venue: Shustoke Farm Barns